We know how stressful it can be to search for various designing resources here and there. So, to save you some time, I decided to create this collection to provide all the best resource websites in one place. These free design resources will help you to create an eye-catching and visually rich design project.
As a Designer, you have to learn new things related to design and user experience regularly. You can learn the most by taking top design courses and tutorials.
Here are the top free design resource websites that every developer should bookmark.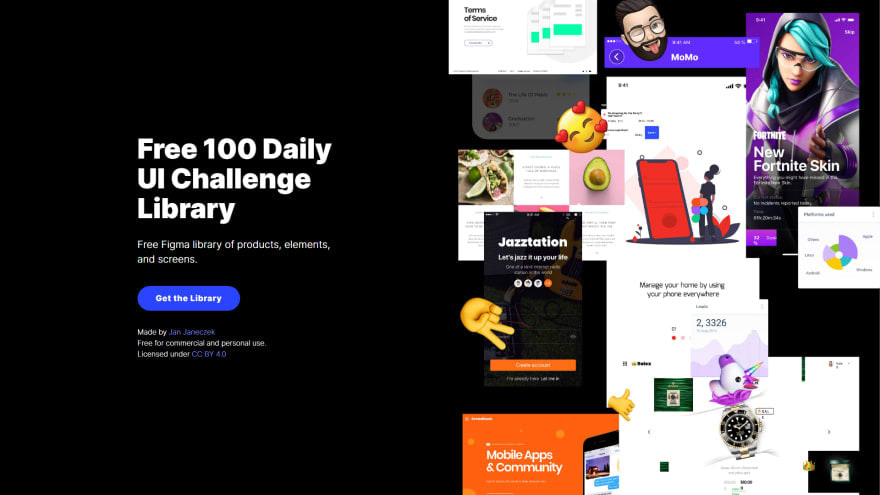 100 Daily UI Challenge is a free collection of Figma elements and screens that you can customize with colors, shapes, and elements. It allows you to create some awesome UI designs and create better products.
This resource is free for commercial and personal use.

Invision is a digital product design platform that powers the world's best user experiences. The InVision platform provides intuitive tools for ideation, design, prototyping, and design management all in one place. Over 7 million users at more than tens of thousands of companies use it, including American Express, Boeing, Netflix, Ikea, Slack, and Virgin Atlantic. Additionally, it offers: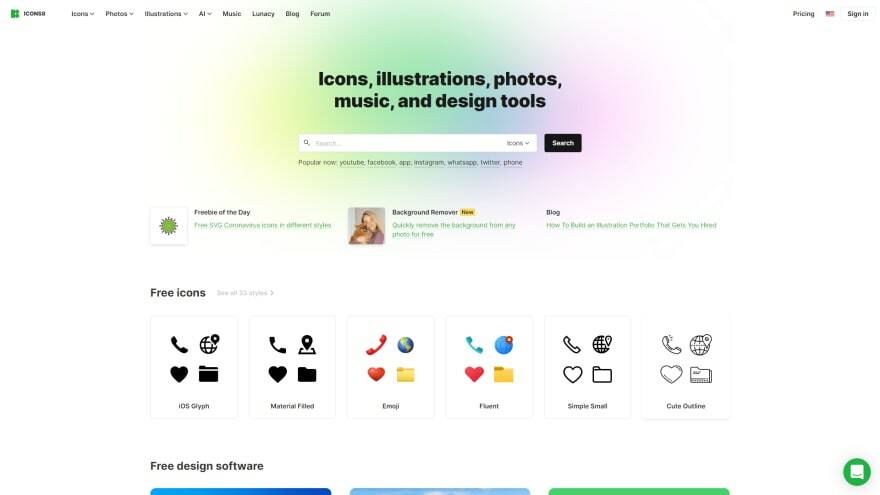 If you're not an artist, Icons 8 can help you overcome the lack of quality graphics on your product. See what top Dribbble artists are doing to class up your product. Some features include: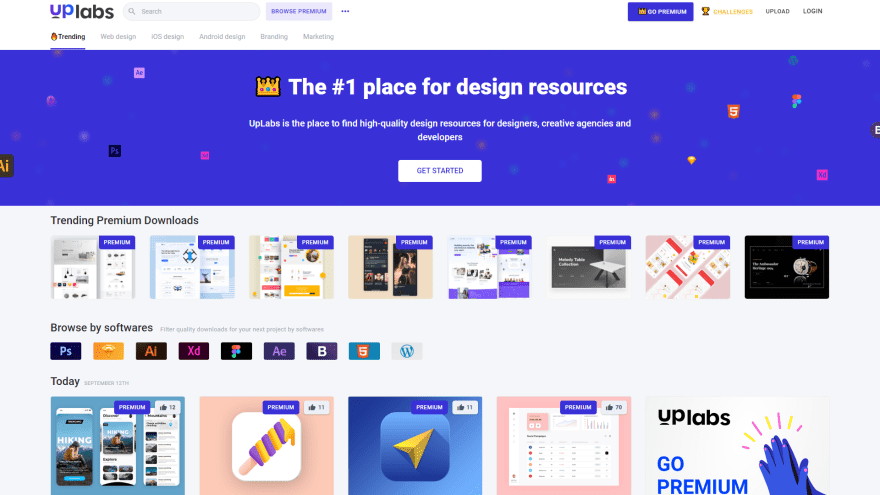 UpLabs is a website that helps designers and developers find and share resources for building apps and websites. It is a community-powered marketplace that lets designers and developers share ready-to-use user interface components such as login boxes and payment forms. Designers and developers can receive feedback from each other on live concepts within the UpLabs community.
UpLab's three showcases:
Undraw is a library of up-to-date, beautiful vector icons available in four styles. It is royalty-free and free to use on commercial and personal projects. UnDraw provides free access to every image, asset, and vector it publishes. You can use them for both commercial and non-commercial purposes.
Sketch App Sources - Sketch UIs, Wireframes, Icons & much more
ManyPixels is a good choice for businesses that need graphic design services but don't want an in-house graphic designer. Over 1,300 customers use ManyPixels. Companies such as Beam, Decathlon, and Gartner are among the customers.
What types of users can use ManyPixels?
Bloggers/podcast hosts who want catchy icons for their channel.
Creative and marketing agencies who need email campaign designs, event graphics, or T-shirt design.
Corporations in need of business reports, infographic illustrations, and eCommerce graphics.
Startups that need help with branding, email marketing, and social media graphics.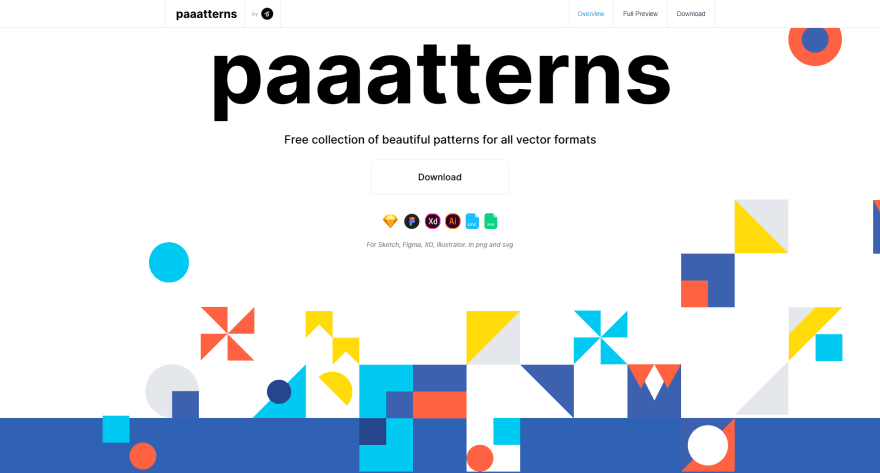 If you have a tight deadline and want to be visually strong, consider our patterns - hand-made shapes and well-picked colors will come in handy when you run out of ideas. Paaatterns provides the following features: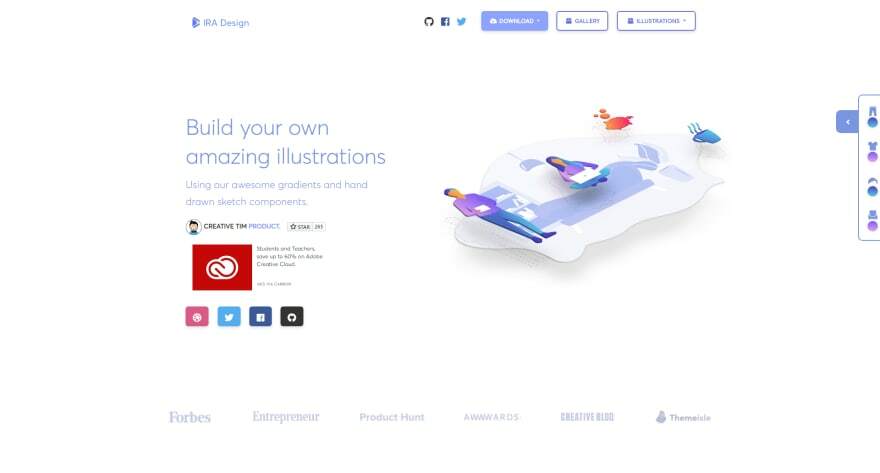 IRA comes with a variety of ready-to-use features, gradients, and components. You can use the samples as they are or add a new block from the UI Kit. With IRA, you can create stunning illustrations using hand-drawn sketch components, a selection of 5 gradients, and AI, SVG, and PNG formats.
You can choose the colors, objects, formats, and scales for your images without affecting the quality.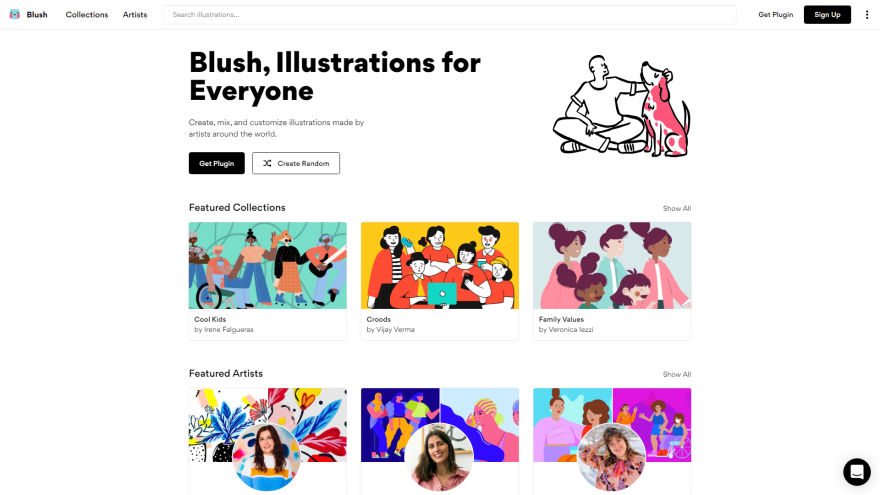 Blush is a tool that showcases illustrations from artists around the world. The best thing is that you can customize every piece of an example to create your compositions. It is available as a plugin on Figma, making it simple for designers to play with illustration in their design tool without losing context in the canvas.
You can create eye-catching banners and visual slides, as well as graphs with rich visualizations with Blush.
This collection of high-resolution vector and illustration background images is perfect for modern websites and landing pages. The weekly illustrations are updated with different topics every week. Also, you can contact them if you have any ideas for illustration background images.

Humaaans is a free library to mix and match illustrations of people. You can create neat scenes by making changes to their positions, clothing, colors, and hairstyle. Furthermore, it is possible to add backgrounds to it and harness the power of libraries to customize it to suit your needs.
Available On - Sketch, Figma, InVision Studio, and Adobe XD.
You can use the following features for free in UI space:
---
If you have made it this far, then certainly you are willing to learn more. Here are some more topics that we think will be interesting for you.