Vue is a progressive framework for building web interfaces and single-page apps. It is becoming more and more popular among developers, and thanks to its flexibility and moderately smooth learning curve this framework is currently used on over 650K websites, and by big companies like Apple, Netflix, and Google.
​
Here is a list of 20 awesome website and landing pages you probably have heard about, but might not know were created using Vue.js.
​
Before we jump into the list, I used SaaS Landing Page to find high-quality Vue.js examples, and Wappalyzer (an amazing free-based tool) to identify the technologies behind the products.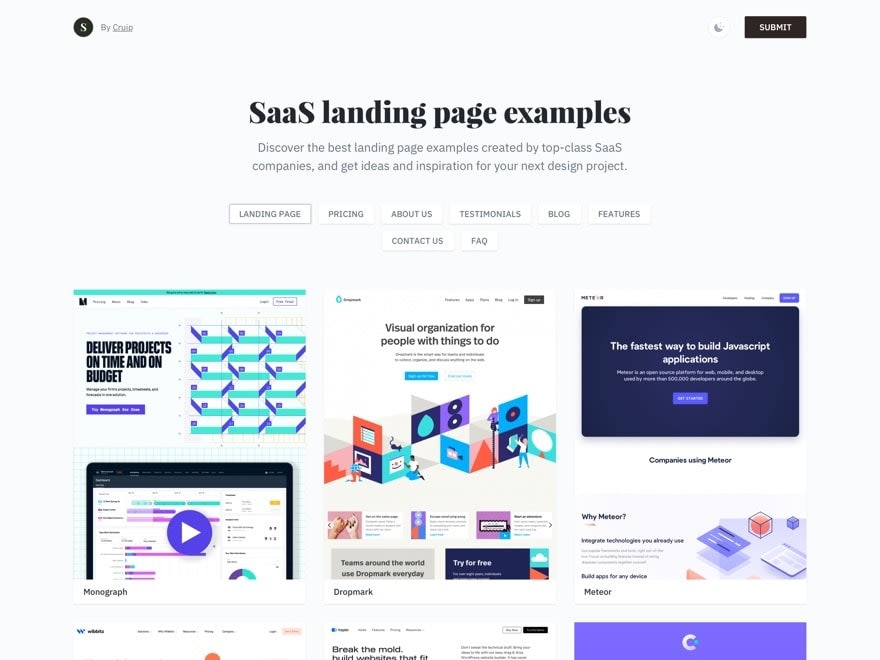 Discover the best landing page examples created by top-class SaaS companies, and get ideas and inspiration for your next design project.

Reveal the technology stack of any website, instantly and for free.
---
20 Awesome Vue.js website examples:

Spendesk is an all-in-one corporate expense and spend management service. It lets you track expenses across your company, empower your employees with a clear approval process, and simplify your bookkeeping.
---

Moderne provides highly tailored ad ideas and insights, offering a digital workspace for more effective brainstorming for creative minds.
---

Chargebee is the leading subscription billing software powering end-to-end recurring billing, subscription management & auto invoicing for 2000+ SaaS businesses.
---

Yousign is a certified software solution for generating verifiable electronic signatures. The application is the leader in its class in France and already has a considerable customer base with more than 1500 customers.
---

Infermedica is a leading digital health company specialized in AI-powered solutions for preliminary diagnosis and patient triage.
---

Keap (formerly Infusionsoft) offers an e-mail marketing and sales platform for small businesses, including products to manage and optimise the customer lifecycle, customer relationship management, marketing automation, lead capture, and e-commerce.
---

Beau allows you to easily pull in data from different sources, discover patterns, uncover trends and share insights with your team to keep your business moving forward.
---

Laravel Vapor is an auto-scaling, serverless deployment platform for Laravel, powered by AWS Lambda. Manage your Laravel infrastructure on Vapor and fall in love with the scalability and simplicity of serverless.
---

MetaMusic outlines the procedure and best practices to follow and establishes a common metadata model for indexing any music content.
---

Specify is a tool to create, scale and maintain a design system. Meet the ultimate bridge for digital product teams.
---

ProtoPie is the easiest tool used to turn your UI/UX design ideas into highly interactive prototypes for mobile, desktop, web, all the way to IoT.
---

Chargetrip is accelerating the advent of sustainable transportation by developing the missing tools that help people and businesses switch to electric mobility.
---

Brilliant helps you build quantitative skills in math, science, and computer science with fun and challenging interactive explorations.
---

The Mille et UN Fund for Young People is the first major government project that brings together crowdfunding, contributions from businesses, and support from the public sector.
---

Netlify is a unified platform that automates code to create performant, easily maintainable sites and web apps.
---

ITG.Digital is a website that offers more than 1,500 vector illustrations and 1,000,000 unique combinations for web applications, presentations, social media, print, and more.
---

Icons8 app allows to recolor icons in seconds, add overlays, create icon fonts, drag-n-drop icons to any software, and more.
---

Inspireframe lets anyone easily create website prototypes with thousands of real website components. No design skills needed!
---

Aircall is a cloud-based call center software that integrates with CRM, productivity, and helpdesk tools.
---

Kontainer is a marketing platform for secure & professional organization & sharing of your images, video, logos and other files both internally and externally.
---
Conclusion
I hope you enjoyed this list Vue.js examples and inspiration. If you're aware of more rad websites built using Vue.js please feel free to share them below.