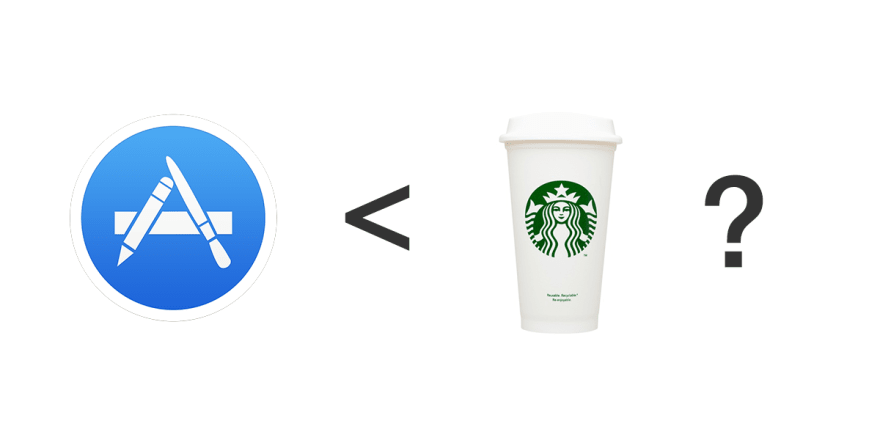 Last week, popular writing app Ulysses announced that it would be moving from one-time purchase pricing to a subscription based model. This has all but confirmed a belief that I have long suspected: subscription is the only way to survive as a software company.
Consider the nonsensical way software is currently done: developers spend endless hours researching, developing, fixing, and providing support for software, the hardest of which is probably the last of that array of responsibilities. In return, customers are accustomed to paying discount, wholesale prices of anywhere from 99 cents to $4.99 one time.
One time. For all of eternity.
Since we all love the infamous "this app is cheaper than a cup of coffee — buy now! analogy, consider if Starbucks customers visited the store only once every 10 years to buy a single cup of coffee. How soon do you imagine they'd go out of business?
Repeat business. That's the American way. I remember some decades ago being overseas and telling some friends that in America, you can return something if you don't like it. They were shocked. It sounded like heaven. Where they were, once you bought something, it was final.
But this is hardly a case of companies trying to be Good Guy Greg. Why do you think companies pretend to love their customers so much? Why do they offer great customer service, wholesome return policies, and an amazing shopping experience?
All so you come back.
Because if you only came once, they'd be done for.
The 21st century is represented almost more than anything by our awkwardness with how we value digital goods. Infinitely reproducible, we struggle with attributing real value to software. "You wouldn't download a car, jokes anti-piracy memes. But when will we finally learn that the digital realm is real, if not realer, than the physical? And while customers reap the treasures and loot software for ridiculously low prices, indie software developers and firms are left struggling to make sail.
Repeat business is the name of the game. Whether that's through paid upgrades or subscription pricing, customers need to come back in order for a software company to survive. The economics of providing endless labor for a ridiculously low-priced one-time purchase simply does not make sense. Microsoft has learned it. Adobe has learned it. And now, indie software developers are finally learning it too.
My advice to developers creating a software company? Aim for repeat business if you wish to survive. Don't do the Apple deal. Value your work and time.
And for software customers who read this and are horrified by the thought of spending five bucks every month for every app they use: welcome to the future. Welcome to the way this was always going to play out; the only way it could have played out.
---
I'm proud to say that we do subscription pricing at Standard Notes, an encrypted notes app. This has given us a real shot at surviving. I could not imagine how it would have turned out had we decided to do one-time pricing from the start. I don't think we'd be here today if we had.