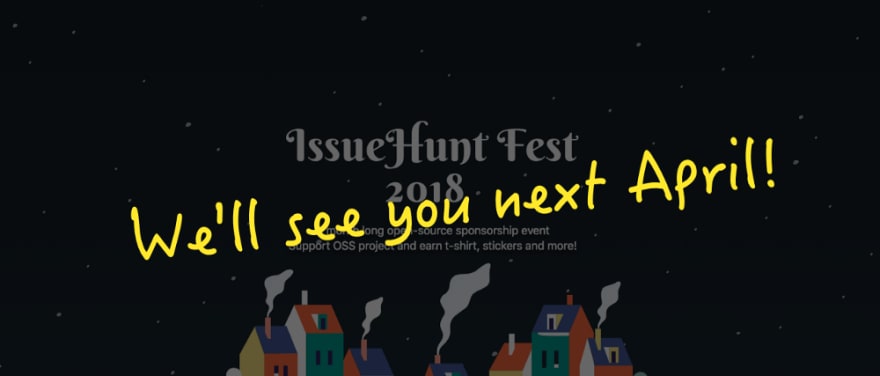 We organized IssueHunt Fest with a simple mission in mind: to create a sustainable open source ecosystem. IssueHunt Fest, a month long online sponsorship event for open-source projects take place every year in April and December.
Although we held the event for the first time, developer from over 121 countries participated contributing to various projects through IssueHunt this year.
Famous projects like Jekyll and AVA registered their repositories to IssueHunt during the event.
---
What is IssueHunt Fest?
IssueHunt Fest is a month long online sponsorship event for open-source projects. We first announced about IssueHunt Fest 2018 on this article.
The event take place every year in April and December. At the event we distribute sponsored money to promising OSS listed on IssueHunt.
https://fest2018.issuehunt.io/
---
Sponsors of IssueHunt Fest 2018
Special thanks to following amazing companies that sponsored IssueHunt Fest 2018!
With your kind support we were able to help and fund OSS listed on IssueHunt. Thanks again for your support!
Gold: Microsoft
Silver: Framgia, LINE Corporation
Bronze: Mercari, Cryptoeconomics Lab
Goods: JetBrains, Unity Technologies
Organize: BoostIO
---
About reward items
We will start sending reward items on mid-January 2019. Top 10 contributors will receive T-shirt and stuffed animals, and developers who submitted more than 3 pull requests will receive stickers.
Feel free to share your fruit of efforts with the world on social media!
---
Other OSS donation platform
Many services that support OSS exists in the market. As IssueHunt we want to build culture where people support OSS and don't take it for granted.
Please consider using them as well along with IssueHunt.
Open Collective
Open Collective enables groups to quickly set up a collective, raise funds and manage them transparently.

Patreon
Patreon is a membership platform that makes it easy for creators to get paid.
---
Sponsorship program
We are looking for companies willing to sponsor open-source projects!
Since the launched of IssueHunt in July 2018, many OSS projects have listed their repositories on our website. These projects collected over a few thousand dollars from companies and individuals around the world.
We are certain that these funds will accelerate the OSS development and help emerge next technological innovations.
Become a part of this significant movement by helping us pursue our mission of building a sustainable open-source community.
https://issuehunt.io/sponsorship
---
We will continue to put our best efforts to pursue our mission: to create sustainable open-source.
Thank you for participating. Have a happy holidays 🍾🍾