Disclosure: This post includes affiliate links; I may receive compensation if you purchase products or services from the different links provided in this article.
Hello guys, If you are thinking to start or advance your career in Information Technology, Data Science and IT support but lack the necessary skills and knowledge then you don't need to disappoint. Coursera's professional certificates can give you all the knowledge, skills, and credential to start a career in Information Technology, Data Science, and IT support.
If you don't know, Coursera launched Professional Certificates recently which can help you get job-ready for an in-demand career field in less than a year.
You can earn a career credential, apply your knowledge to hands-on projects that showcase your skills for employers and get access to career support resources.
Many of Coursera's professional certificates also provide a pathway to industry-recognized certification.
Since this is a very new concept, I thought to write about it and share whatever I know.
At high level, Coursera Professional certification is very similar to Coursera Specializations, which also bundles relevant courses to teach you an in-demand skill and make you job-ready by awarding a certificate once you completed all the assignments and project work.
In fact, they have actually taken the Specialization into the next level by introducing Professional certificates.
With these certificates, Coursera intends to bring affordable, career-aligned training programs taught by expert instructors from top companies like IBM, Google, SAS etc. and universities like University of Michigan to the everybody who wants to learn in-demand job skills to start career in tech.
It's also very affordable as you can start pursuing your career dreams today with programs starting at $39 USD per month and a 7-day free trial. You can even join for free.
10 Best Coursera Professional Certificates to Advance Your Career in Cloud, Data Science and IT Support
Without wasting anymore of your time, here are some of the most popular professional certificates from Coursera to give your career a boost or learn new in-demand skills you need to break into a new career fields like information technology or data science.
Data analytics deals with data by cleaning, transforming, and analyzing data to extract valuable information for decision-making. One of the best courses in Coursera to learn data analytics is the Google Data Analytics Professional Certificate.
This professional certificate offered by Google has more than 446k enrollment. They promise that you will be ready for a job in data analytics in just six months after enrolling in their program with no experience required.
You will understand how the role of a data analyst works and the tools used for data analysis. Learn about different data types and how to use the SQL language, create data visualization, and analyze data with the R language.
*Here is the link to join this Google Certification - * Google Data Analytics Professional Certificate
---
If you want to start our Career in Data Science & ML, then this is an excellent professional certificate for you. Data Science has been ranked as one of the hottest professions and the demand for data scientists is booming.
This Professional Certificate from IBM is intended for anyone interested in developing skills and experience to pursue a career in Data Science or Machine Learning.
It will teach you all the necessary technology a Data Science professional needs like Python and SQL, analyze and visualize data, build machine learning models.
More than 76,173 students have already enrolled in this program, and just in case if you need, financial aid is also available.
---
If you want to make a career in IT, then this is one of the best professional certificates you can get.
It's offered by none other than Google, one of the most known IT company in the world.
This program is designed to take beginner learners to job readiness in under six months and more than 90,492 have already enrolled! on this program.
Coursera also offers financial aid for this program. This five-course professional certificate has an innovative curriculum designed by Google to prepare you for an entry-level role in IT support.
A job in IT support means either in-person or remote help desk work in a small business or at a global company like Google.
---
There is no doubt that Cloud computing is a very in-demand skills and probably mandatory now to start your career in Technology.
If you want to advance your career in cloud architecture, then this is the best professional certificate you can acquire to give your career a boost.
It's offered by none other than Google Cloud, which means you will be learning from the source.
If you don't know the Google Cloud Professional Cloud Architect certification was ranked one of the top-paying IT certifications by Global Knowledge, and there is a huge demand for Google Certified professionals as more and more companies are moving towards Cloud
This is also a very hands-on program as you'll learn how to deploy solution elements, including infrastructure components such as networks, systems and applications services, and you'll gain real-world experience through a number of hands-on Qwiklabs projects that you can share with potential employers.
---
If you want to launch your career with a SAS® Credential then you have come to the right place. This professional certificate offered by none other than SAS and Coursera will not only help you to master the skills required for the SAS® Base Programmer certification, but also give you the recognition you need to secure job interviews.
After completing the SAS® base Programming courses, you will learn skills in manipulating and transforming data, combining SAS data sets, creating essential detail and summary reports using SAS procedures and identifying and correcting data, syntax, and programming logic errors.
These skills prepare you for the SAS® Base Programmer certification exam.
--
If you want to kick start your career with Artificial Intelligence then this is an excellent certification, to begin with. If you don't know, Artificial Intelligence or (AI) is transforming our world.
Whether you're a student, developer, or a technology consultant, understanding AI and knowing how to create AI-powered applications can give you an edge in your career.
This Professional Certificate, offered by IBM, one of the most reputed global IT companies, is designed to arm you with the skills to work as an AI Application Developer. More than 2,611 students have already enrolled in this program.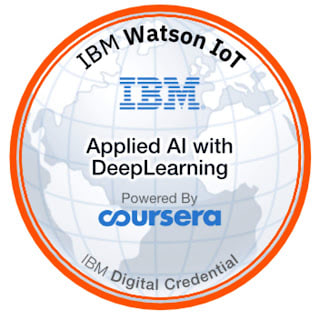 ---
This new beginner-level, six-course certificate, developed by Google, is designed to provide IT professionals with in-demand skills -- including Python, Git, and IT automation -- that can help you advance your career.
---
People think that Google's most revenue comes from ads on their search engine, but Google has over 270 products, generating billions of dollars from these products. This Getting Started with Google Workspace Specialization will help you learn some of them.
This specialization will help you be more productive when you learn them, and even most companies use them to run their businesses, so there is no better time to start with this course that has a rating of 4.8 stars.
You will start learning how to use Gmail and some of its options that most people don't know. Then learn how to use google calendar to schedule meeting and use google drive to store your files. You can also use Google Sheets to edit spreadsheets and many other services.
*Here is the link to join this Google Certification - *Getting started with Google Workspace Specialization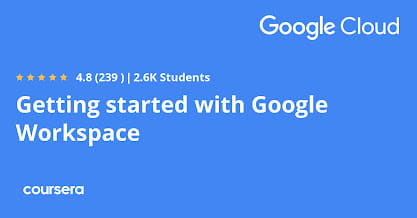 ---
The Data Science Machine Learning course is offered by one of the oldest and most famous technology companies IBM. This is an excellent course for beginners who wants to start their career in Data Science, more than 12% of people who have joined this specialization have started their career which is remarkable.
This course is designed for people serious about becoming data scientists but don't yet know where to start. It introduces some basic concepts and tools used by data scientists.
It's also a very hands-on course where you will learn practical data science through guided lectures, labs, and projects in the IBM Cloud; you'll also get hands-on experience tackling interesting data problems from start to finish.
There are 5 courses in this specialization:
Python for Data Science, AI & Development
Python Project for Data Science
Data Analysis with Python
Data Visualization with Python
Applied Data Science Capstone project
This means you will learn Python and discover data analysis and data visualization methods. You'll also learn essential tools used by real data scientists like Numpy and Pandas, practice predictive modeling and model selection, and learn how to tell a compelling story with data to drive decision-making.
Here is the link to join this program - Applied Data Science
That's all about some of the best professional certificates on Coursera to start or advance your career in Information Technology. I have purposefully chosen the most popular ones and also keeping the demand in mind.
The list includes professional certificates on IT support, Blockchain, Data Science, Artificial Intelligence, Google Cloud, and SAS, which are in-demand skills.
---
This is one of the best Coursera specializations to learn Blockchain in 2022, particularly for programmers and software developer who wants to learn about Blockchain and develop smart contract and distributed application leveraging Blockchain network, particularly Ethereum.
This specialization has 4 courses that will teach everything you need to learn about Blockchain, how it facilitates peer-to-peer transactions without any intermediary, and then how to develop smart contracts and dApps on the Ethereum network.
This course is offered by The State University of New York & the University at Buffalo and it's completely online. It will take almost 4 months to complete if you can spend 4 hours each week and you will also get a sharable certificate after completing this Blockchain certification.
Instructor: Bina Ramamurthy
Offered by: The state university of NewYork, and the University at Buffalo
How long does it take to learn Blockchain - 64 hours
Level - intermediate, programming knowledge required
Skills - Smart Contract, Ethereum, Blockchains, Solidity, Cryptography, Bitcoin, Cryptocurrency, Blockchain, Remix IDE, MetaMask client, Decentralized Applications, Truffle IDE
Talking about the social proof, this is the most popular Blockchain certification on courser and more than 70K students have already joined this program it has on average 4.6 rating from close to 5000 students which is remarkable.
Here is the link to join his specialization -Blockchain Specialization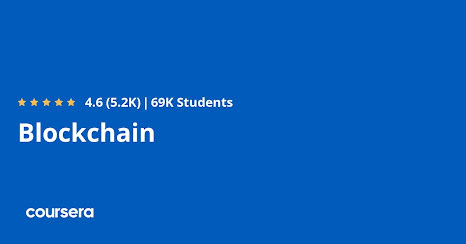 ---
These professional certificates will not only give you experience and knowledge but also recognition. So, if you want to kickstart your career in IT support, Data Science, Artificial Intelligence, Google Cloud Platform or SAS, go for these certificates.
Other Programming and Tech Articles you may like
Thanks for reading this article so far. If you like these Coursera Professional certificates, then please share it with your friends and colleagues. If you have any questions or feedback, then please drop a note.