Layout.fm
A weekly podcast about design, technology, programming and everything else.
By @rafahari previously Netlify, currently superlist.com and
@vernalkick Senior UX Manager at @Shopify
Codepen Radio
https://blog.codepen.io/radio/
Chris Coyier, Alex Vazquez, and Tim Sabat, the co-founders of CodePen talk about the ins and outs of running a web software business.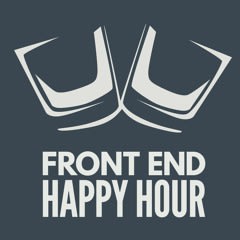 Frontend Happy Hour
http://frontendhappyhour.com/
A podcast featuring a panel of Software Engineers from Netflix, Twitch, & Atlassian talking over drinks about all things Front End development.
Ladybug
https://www.ladybug.dev/
By Kelly Vaughn, Emma Bostian, Sidney Buckner & Ali Spittel share their thoughts and stories from working in tech. They also share some really fun and interesting interviews.
Syntax FM
https://syntax.fm/
By Wes Bos & Scott Tolinski
"Full Stack Developers Wes Bos and Scott Tolinski dive deep into web development topics, explaining how they work and talking about their own experiences."
Fullstack Radio
https://fullstackradio.com/
A podcast for developers interested in building great software products. Hosted by Adam Wathan.
And that's it! If you ask me my favorite I recommend Frontend Happy Hour.
---
Follow me on twitter or subscribe to my newsletter for more resources and tools for Frontend Developers!