In this first devlog post, I'd like to introduce Battle Engine, beng for short, an adventure game discord bot.
beng is based on a game from a long time ago, revived to bring back a text-based, rogue-like dungeon crawler you can play with your friends.
Setting up the game, everyone needs a user and a character,
which you can create with the following command:
You'll then receive a DM from beng asking what you'd like to name your character.
Providing your desired character name will create a user and character.
To check user status,
To check character status,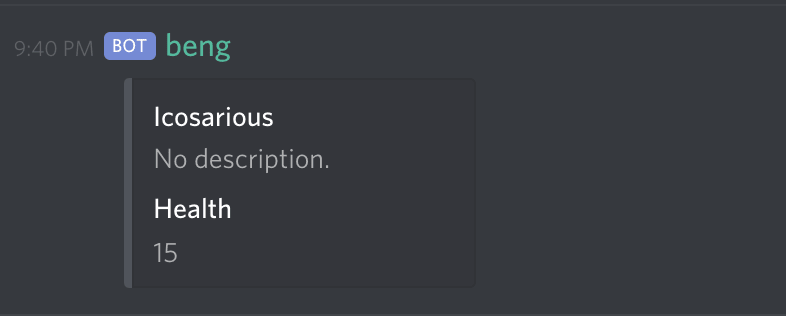 Next it's also possible to look at the complete list available commands:
Next devlog, I'll walkthrough starting an adventure and inviting your friends.
Battle Engine is brought to you by creators Jeff Secord (blaschko) and Matt Parke (munkymachine).
Come say hi to us on discord! Join Battle Engine Discord.
Want to help out or report a bug? check out active issues and contribute to Battle Engine on GitLab. All skillsets and levels of experience welcome, whether it be content writing, art, development, or just ideas!