Tailwind UI is a beautiful UI component library that you can use, to make beautiful websites in just minutes. It has over 400+ professionally designed, fully responsive, expertly crafted component examples you can drop into your Tailwind projects and customize to your heart's content.
But if you want to use it in your personal or clients project it costs around 149$ minimum (which is a lot for the developer who is starting web development) to buy a whole component library.
In this blog post, I have listed out the free tailwind components library that you can use in your projects and make beautiful websites fast and easily.
PS: If you got some cash to burn or you are a dev that earns 6 figures 🚀🚀, consider buying tailwind UI which is made by official developers of TAILWIND CSS.
Responsive HTML & React components for your next web application. Make your tailwind apps even sleeker and faster to develop with our ever growing library of components, elements, and example pages.
Price: Free
Tail-kit gives you access to over 250 free components and free templates, based on Tailwind CSS 2.0. It's all compatible with React, VueJS and Angular application.
Price: Free
Re-usable and re-workable components designed to be hacked at. Start here, add your own style, and build something awesome.
Price: Free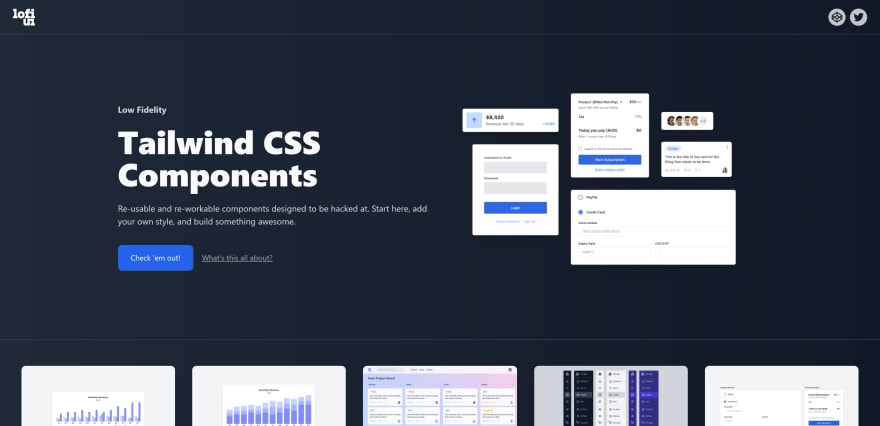 Beautiful Tailwind CSS components that support RTL languages & fully responsive based on Flexbox & CSS Grid with elegant Dark Mode.
Price: Free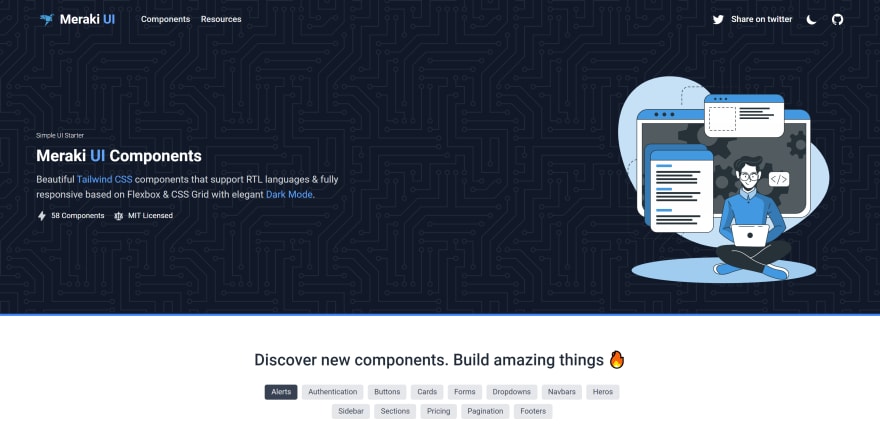 Tailwind CSS with Bootstrap JS
Price: Free
f you're already using Tailwind and you find yourself repeatedly creating a few common component classes for every project, Sail UI is for you.
This package helps you with a few basic components, so that you can start building your prototype / draft / MVP before you get down to polishing your fully custom design.
Price: Free
Open source Tailwind UI components and templates to bootstrap your new apps, projects or landing sites!
Price: Free
Easily customizable modern React UI Templates and Components built using TailwindCSS which are also lightweight and simple to setup. All components are modular and fully responsive for great mobile experience as well as big desktop screens. Brand Colors are also fully customizable. Free for personal as well as commercial use.
Price: Free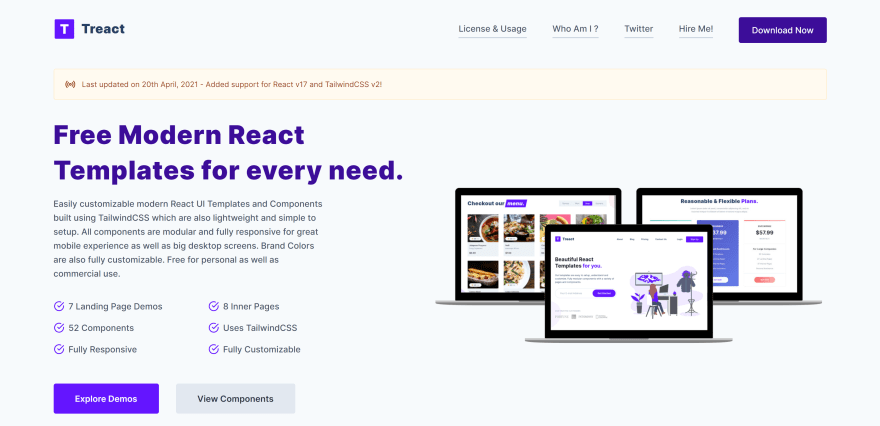 It includes over 130 sections, built with TailwindCSS, for your awesome projects.
All the sections are fully responsive and available in HTML, VueJS, and React.You can use them on unlimited personal and commercial projects.
Price: Free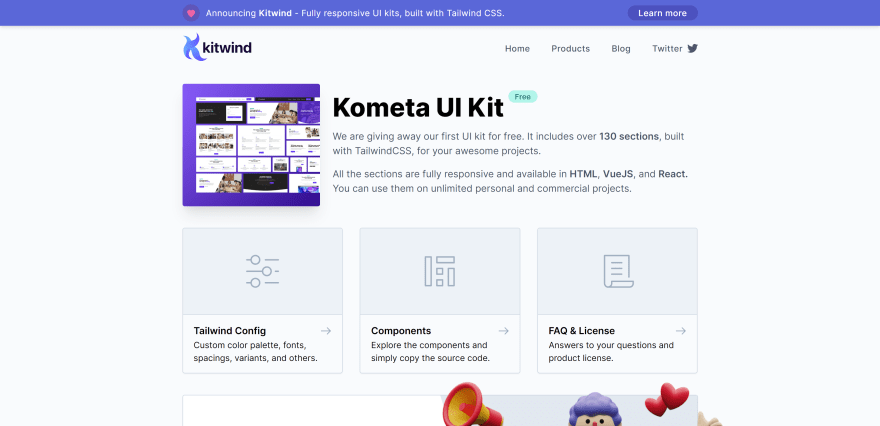 This project provides multiple blocks built using Tailwind CSS that you can use in your own projects. This project is not a dependency that you add to your project, but instead provides you with HTML that you can easily copy and paste into your own project.
Price: Free
Open source starter templates and components, a directory of handy building kits, generators, plugins and useful tools to kick start your Tailwind CSS project.
Price: Free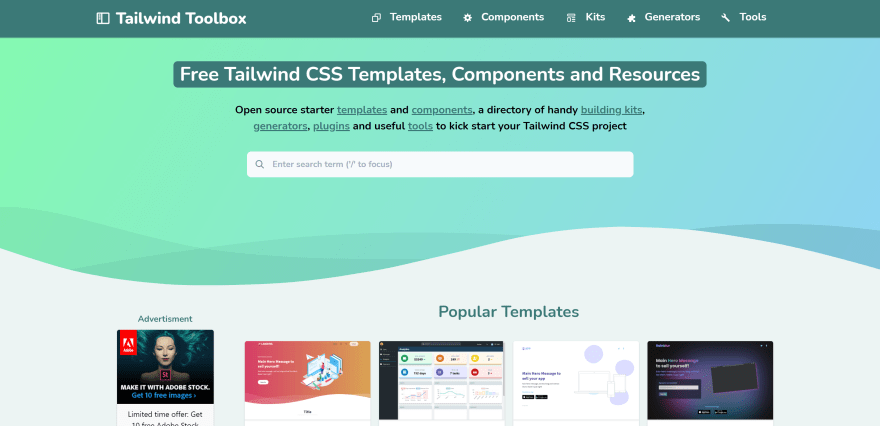 Handcrafted themes and components to take-off your next project. Written in your favorite framework Tailwind CSS. Start saving time and money.
Price: Free 4 pack.
Mamba UI is a free, open-source collection of UI components and templates based on Tailwind CSS.
Price: Free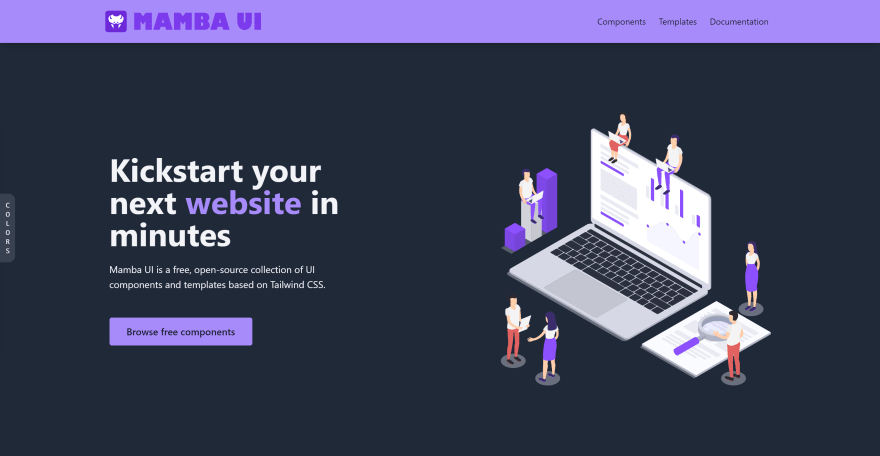 Kutty is a tailwind plugin for building web applications. It has a set of accessible and reusable components that are commonly used in web applications.
Price: Free
Clean HTML with component classes
Customizable and themeable
Pure CSS, No dependencies
Price: Free
Ready made tailwind CSS Block for your next project.
Price: Free
Completely unstyled, fully accessible UI components, designed to integrate beautifully with Tailwind CSS. From developers of tailwind css.
Price: Free
Ready to use Tailwind CSS UI Components, Blocks, Sections, and Templates. Choose from 300+ diverse UI components, copy-paste UI components code, and build your unique web app user-interface, landing page, website, or template faster.
Price: Freemium
FlowBite is an open-source library of UI elements based on the utility-first CSS framework Tailwind designed and coded by Themesberg available in Figma and as web components.
It includes all of the commonly used components that a website requires, such as buttons, dropdowns, navigation bars, modals, but also some more advanced interactive elements such as datepickers.
Price: Free
Tailwind Starter Kit is Free and Open Source. It does not change or add any CSS to the already one from TailwindCSS. It features multiple HTML elements and it comes with dynamic components for ReactJS, Vue and Angular.
Price: Free
Build captivating experiences with accessible, fully responsive, drop-in-ready Tailwind CSS components and fast track your workflow. Get started FREE with 250 COMPONENTS
Price: Freemium
HyperUI is a free, open source library of Tailwind CSS components.Head to a collection you like, let's say footers, from here you can view all the components at sm, md and lg+ breakpoints.If you find one you like, great! 🥳
Simply click the 📋 Copy button and then paste the HTML in your project.
Price: Free
Collection of Tailwind CSS components for everyone to use. Browse all of the components that's right for your project.
Price: Free
Bootstrap components recreated with Tailwind CSS, but with better design and more functionalities.
500+ UI components
Super simple, 1 minute installation
Free hosting
MIT license - free for personal & commercial use
Price: Free
Collection of tailwind components found on the internet and added in one repository.
Price: Free
Get more insights like this on my blog, https://blog.webdrip.in.