So many Coronavirus statistics websites are built these days!
Sharing with you mine which is a responsive dashboard website I created presenting Coronavirus (COVID-19) pandemic live statistics and news tracking historical data, daily charts, graphs, a per country view and more! coronavirus-epidemic.com
Note: VPN/Antivirus policies might block this website because the domain includes the word "virus" (how stupid is that?), so you can also use try using this alternative link.
So besides the obvious which is sharing with you some screenshots and the list of technologies used, I added some fun-to-read coronavirus guide for humans (which of course includes lots of emojis!) - Just slide down this article to see it 😃 Feel free to suggest some of yours!
In any case, if you have some questions, feedback or recommendations - You are welcome to leave any comment
Screenshots
Desktop
Mobile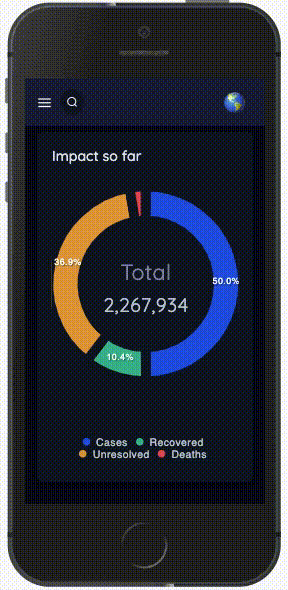 Tech Stack
Backend:
Frontend:
Hosting:
APIs
And since we all like emojis..
🦠😷 Coronavirus Humans Guide
Some of the credit goes to: https://emojipedia.org/coronavirus/
🚫🤦 Don't touch your face
🚫🤧🤲 Don't sneeze into hands
🚫🤝 No handshakes
🚫🧑‍🤝‍🧑 No close contact
🚫🏟 No large gatherings
🚫🛒😡 When using local shops, don't buy literally everything on the shelves. Leave enough for others!
✅🤧💪 Do sneeze into your elbow
✅😷 Do put a medical mask
🧼👏⏲2⃣0⃣ Wash your hands regularly, for at least 20 seconds
🧴🤲 If soap is unavailable; use alcohol-based handrub / sanitizer
✅📦😌 If practical, have groceries and other items delivered to your home
🧍↔🧍 Keep a reasonable distance from others
🧍▫▫🧍 Stand 2m (6ft) apart
🧍🏠 Stay at home
---
If you liked the article, please give it a ⭐ on web-coronavirus-stats repository and click the ❤️ below so other people will see it on DEV.to :) ! Feel free to follow me on Github