To make your business stay competitive in the market, all you have to do is to ensure you give appropriate comfort for your employees to connect with you at anytime, anywhere.
A key component for work from home situations is Video Conferencing.
The Global Video conferencing market is projected to reach USD 6.37 billion by 2026.

The video conferencing is just more than face-to-face interactions. Today's business demands a next-level conferencing solution with enriched features like screen sharing, remote access, etc., In most of the enterprise businesses, the base level of tool used across the globe is video conferencing software to enhance the collaboration and interaction among the geographically dispersed teams.
Major Benefits of Using Video Conferencing Platforms for Businesses
Reduces the travel time and cost spent on it.
Structuring meetings with improved communications
Optimized Day-to-day Attendances
Employee retention
Increased Overall Productivity & Efficiency
On top of all the benefits, video conferencing is the most preferred way of interaction tool practiced across enterprise businesses for team & business communications.
As the technology is growing, the necessity of improvements in versions also includes. Thus, video conferencing is divided into six main types:
One-to-one Conversations.
Desktop Video Conferencing
Internal Team Meetings
External conferencing - Between Vendors & Customers
Telepresence
Room-based Conferencing
One-to-one Conversations
This is the most common type used by businesses. This helps working professionals, managers to manage remote conferencing effectively and conduct private one-to-one video chats. The one-to-one video conferencing API/SDK is cost-effective to conduct the first round of interviews for employees and reduces the travel cost for the client's meet up.
Desktop Video Conferencing
The conferencing is carried over a laptop or desktop through software and video conferencing platforms. These are the simplest form of conferencing where it takes just a video conferencing software and webcam to communicate.
Internal Team Meeting
This is basically used in companies that have more than one office. The face-to-face meeting lets you connect with the remote employee or team to create a collaborative loop ensuring everyone is unified towards the same objective.
External Conferencing - Between Vendors & Customers
Regardless of physical location, this external conferencing helps you connect with your customer or client right from your desktop or mobile screen. To ensure a smooth transition of goods and supply chain, both the vendor and customer can make face-to-face calls to create deeper relationships.
Telepresence
This type of conferencing is seen in movies, a life-size simulation of all the participants in one room on various screens/monitors at a time. It resembles the meeting of lifelike where all the participants are making eye contact with each other.
Room-based Conferencing
Room-based conferencing commonly takes place from one room only for any type of meeting carried over conferencing. The screens and projectors are installed in the room permanently for making face-to-face or video meetings.
The video conferencing platform has its own potential to benefit every business based on the use cases of the communication type. Each type of conferencing solution benefits your business differently, ensure to pick the ideal conferencing type for your business communication.
Video Conferencing Platform : How to help various industries?
An effortless and effective communication way is the prime for any type of business that is dependent on communication. It might be a small startup or enterprise company or federal company, a real-time communication tool is a must to collaborate and take the business to the next-level of productivity. Video conferencing solution is a magical wand for most of the industries out there to solve their challenges in business communicating.
The Impact of Video Conferencing on Enterprise & Small Business
Creates a digital Workforce for employees and a more collaborative environment.
Video conferencing simplifies the overall communication management and more focus on meetings
Increases the overall communication reliability
Improve the value of each meetings and reduce redundancy
Benefits of Video Conferencing for Health Care
The video conferencing reduces the travel expenses for patients and doctors to visit geographical hospitals for a 30 min discussion.
It helps to diagnose more patients at one time and creates accessibility to medical treatment for remote patients
Video conferencing platform improves medical training where doctors don't need to travel
Connecting with medical specialists over emergencies is made simple with video conferencing right from any device and anytime
The Benefits of Video Conferencing and Collaboration in the Finance and Banking Sectors
High quality communication is crucial to develop a healthy relationship in financial business services, thus video conferencing offers real-time video calling.
Create better internal communication that enables users and support team to explain about products, political changes and financial status.
Enables Experts advice to customers more accessible than before
Video conferencing can also be used as a B2C tool to offer healthy and effective consultation to baking customers on time from any device
Apart from these industries, video conferencing helps to connect other industries like Education, Government & public sectors, Law offices & Legal professions, Manufacturing, Entertainment, Gas, Oil Industry and much more.
As the digitalization is rising, the globalization of industries is turning out to be a huge factor where small and enterprise businesses are seeking a powerful video conferencing solution that meets all their communication needs.
To help you out in finding an ideal video conferencing platform for your business, we came up with some of the world leading video conferencing solution providers in the market.
Top 6 Video Conferencing Solution Providers 2020 – Who's King of Collaboration?
let's run through five of the top video conferencing providers leading the way in 2020. In no particular order, here are some of the providers to consider.
1.MirrorFly- Enterprise Video Conferencing Solution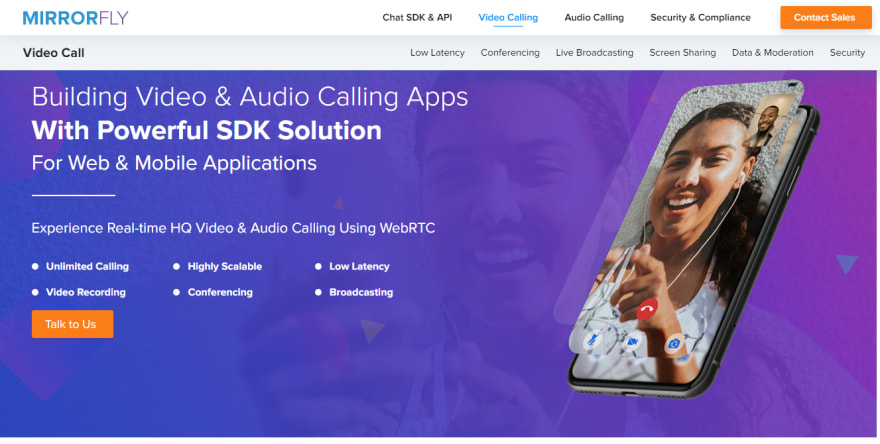 MirrorFly stands ahead in the video conferencing market where the entire platform is a customizable solution embedded with enriched features. The service offers customizable video conferencing solution with API/SDK to integrate on any platform (iOS, Android & Web).
The solution comes with an end-to-end dashboard to analyze and manage overall video conferencing reports in one single dashboard. To provide real-time and high-quality conferencing, their video conferencing platform comes with on-prem and cloud hosting. The solution connects more than 2000 participants in case of a large meeting room. The entire solution is encrypted with AES0512 and end-to-end encryption.
Upfront, completely one-time payment.
Absolutely customizable for any feature and functionality
Self-hosting to cloud-hosting, analytics is possible!
Customizable UI with tangible layouts
Adding of participants limit up to 2000(is case of large meetings)
End-to-end encryption, AES-512.
Screen-sharing & File sharing features
2.Enablex- Multiparty Video Conferencing Platform
It's a subscription-based multi party video calling platform. They offer scalable and reliable conferencing for group meeting or a large-scale video calls technology on all platforms. The platform supports up to a maximum of 6 active speakers to deliver engaging live video experience.
The multi-party video conferencing platform provider is absolutely based on subscription model where you can add up to 5 participants and is limited to minutes as well. The video conferencing API offers group meetings to connect with co-workers across global offices. Their solution offer Whilte-label conferencing with go-to-market use cases.
Maximum conferencing participants up to 60.
Completely subscription-based video conferencing platform
Offers White-label conferencing solution
HR & Physicians Group Discussion Platforms
3.Contus Fly - One-Stop Solution for Video Conferences

ContusFly is a custom messaging solution that offers video conferencing API to integrate video/audio conferencing into your platforms (Android, iOS & Web). The solution is built on scalable infrastructure and webrtc technology to offer faultless interaction between users from any device.
They offer on-premises and cloud hosting of video conferencing solutions. contusfly's video conferencing solution supports up to 50 participants along with smartphone and web platforms as well.
Screen-sharing, File sharing & Cross-platform conferencing.
On-premises and cloud hosting
Maximum up to 50 video conferencing participants
Offers AES encryption & Multiple authorizations
4.Agora - Video Calling Experience Everywhere

Agora is another interesting interactive solution provider in the market where their solutions are easily embeddable with SDK. They also offer cross-platform video conferencing with extreme-low latency and high-quality integrations.
Their pricing model is based on a pay-as-you-go model with zero-upfront. Their video conferencing platform scales up to 17 participants.
Cross-platform video conferencing.
Customization of presentation styles & layouts
End-to-end encryption of calls
Pay-as-you-go pricing model

One of the leading video chat application providing company Dubai. Apphitect is a reliable video call SDK and video call API provider in the market embedded with features to establish better connectivity among any devices. The solution has the potentiality to build a video chat app for Android & iOS to enable multi-party conference calling in high-quality. Apphitect is built in a highly secure cloud environment that allows enterprises and individuals to make video calls or chats instantly without the fret of unauthorized access.
Data Channel,Enterprise Communication SDK.
In-App Messaging,Push Notification & Multimedia Sharing
High Caliber Framework,Multi-platform compatibility
6.BlueJeans - Empowering Remote Workforce

BlueJeans is a SaaS-based conferencing platform offering multiple conferencing needs right from meeting, events and rooms. Their conferencing platforms supports workforces into a modern workforce. Their platforms support up to a maximum of 100 participants and 150 by request and pricing is based on number of minutes and participants included.
Bluejeans are cloud-based meeting rooms with a gateway to connect with microsoft team meetings.
Meeting, Rooms, Gateway and Events Conferencing.
Maximum participants up to 150
SaaS-based conferencing with Prepaid subscription models
Wrapping Up
Whether you run a start-up, enterprise or related to federal government operations, communication with employees and businesses is the prime to improve productivity and business growth. Video conferencing solution is poised to be the necessary tool to scale your business communication globally. Choosing the ideal video conferencing provider is a significant factor to decide the growth of your business.
Every video conferencing solution provider has different conferencing features that offer benefits to your business differently, picking the right one that adds value to your business is the ultimate objective.