CV's are always evolving. There is a statistic which states, the design and contents of your CV establishes either a good or bad impression with your future employer.
I remember applying for jobs and trying to gather opinions and feedback from other developers, work colleagues and friends regarding my CV. These opinions were a lot, confusing and hard to implement. I had to paste a screenshot of my CV on social media platforms and then gather feedback via the comments section.
I built my platform, KwickBox, https://dev.to/rotimi_je_suis/i-call-it-the-betalist-for-job-seekers-34jg to also solve this problem. KwickBox provides a neat github-like review section. Upon creating your online CV, you are able to invite friends, colleagues, etc to provide detailed feedback review per section on your CV, for example: work experience section, educational information section, portfolio section. With this feature, you are guaranteed to get a more organized feedback per invitee and easily implement the required suggestions to improve your CV.
Another beauty with this feature is that you can easily invite anyone via their email address to review your CV while controlling access. Meaning you can block them from seeing/reviewing your CV should you wish to do so and more advanced control settings.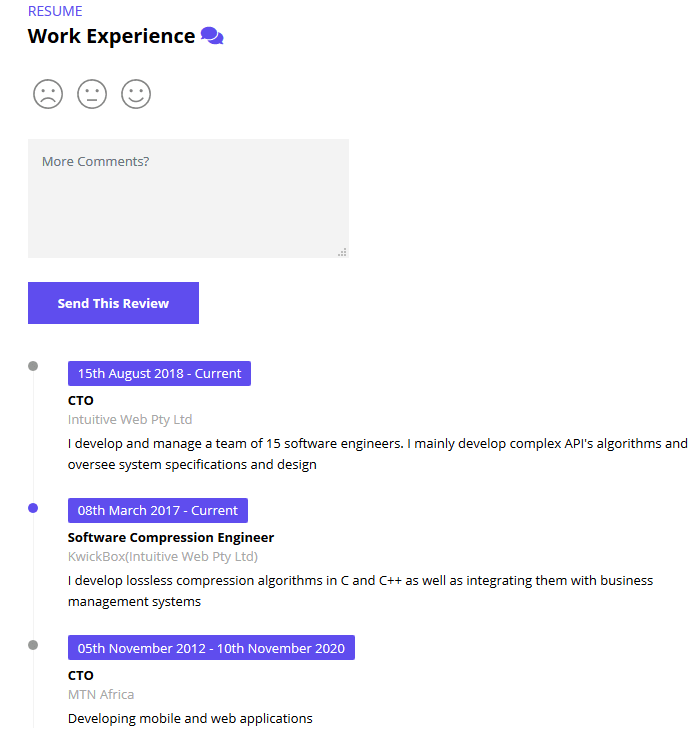 Most users on KwickBox have reported a 120% increase in the quality of contents on their CV's.
While this feature is on the premium plan, you can easily have a taste by visiting the demo page at https://kwickbox.cloud/kwickbox-demo/login
To register for free, please visit https://app.kwickbox.cloud/KwickBox/register
I'm also giving free premium coupon codes up until the 19th of November for job seekers who sign up, create their front page and online CV. Upon completion of registration, click on the Support icon in the bottom right corner when you login, add "free premium coupon please" in the message field and you'll receive it via email