You are looking for freelancing websites to find clients.
You've found them.
First, let me start off by saying my number 1 recommendation is your OWN portfolio website and social media profiles.
You should see freelancing platforms as a secondary channel and not your primary channel.
It works for some and not for others, but do at least try it.
With that said, here are my 10 recommendations:
1. 99Designs
99Designs is a freelancing platform with a unique way of doing things. First off, it specializes in design projects, so you won't find bookkeeping or digital marketing projects in here. What can you design? Anything from a logo to a website.
Second, clients looking for freelancers can either search for one or hold a design contest. The latter is a good choice for clients who want to see several designs as fast as possible.
The design contests are a good way to get experience in understanding client briefs and translating them into a design. It also lets newbies get an equal chance based solely on their artistic talents and not on how many clients they've worked with before or how many designs they've done in the past.
Pros
Newbies can get great experience by participating in design contests.
They have a community forum where you can ask questions and learn from more experienced designers.
Cons
Some contests do not guarantee payments for winners.
Some designers get their designs from stock vectors and graphics.
There are some user complaints about the quality and speed of tech support.
2. Hubstaff Talent
Hubstaff Talent is the remote talent portal of Hubstaff, a time tracking and productivity tool. It's completely free to use both for employers and job seekers, with no commission cuts for projects.
While it doesn't have as many gigs as Upwork or Fiverr, you can definitely find good projects here from clients in different industries including real estate, digital marketing, construction, and others.
You can filter gigs according to skills, type of work (full-time, hourly contract, or fixed price), date posted, pay rate, and experience level.
Pros
It's very easy to create a profile and begin applying for jobs.
It's 100% free to use. No commission fees will be deducted from your salary.
Cons
It doesn't have as many job postings as other job portals.
3. Toptal
If you want a more exclusive freelancing platform, Toptal is the top choice. They claim to be home to the top 3% of freelance talent in the world, so getting approved here is a good boost to your reputation.
As of now, they only cater to freelance software developers, designers, finance experts, product managers, and project managers.
According to the users of Toptal, the application is strict and takes about a month or so. Once you're inside, you'll get access to the job board where you can see gigs posted by companies by the likes of Airbnb, Shopify, and Bridgestone.
Pros
You'll get access to important high-paying projects by some of the leading companies in the world.
They have a tech blog where freelancers can contribute pieces to boost their reputation.
They also have a community of freelancers where you can expand your network, get tips, and get access to exclusive freelancing events.
Cons
The application process is stringent and takes a while.
Some users note that the users far outnumber the projects, which means the competition is fierce.
4. Workana
Workana is a freelancing website specifically for Asian freelancers. They have posted gigs for IT & programming, design & multimedia, writing, finance and management, among others.
It works much like Upwork where you'll register as a freelancer and apply to gigs once your account is approved.
Clients will be able to see your profile, portfolio, and ratings. They also have protected payment options for both clients and freelancers.
Pros
Registering as a freelancer is easy and quick enough.
There's a consistent flow of projects that freelancers can apply to.
Payments are protected via Escrow.
Cons
Account approval takes a while, although you can speed it up by paying around $10.
5. Upwork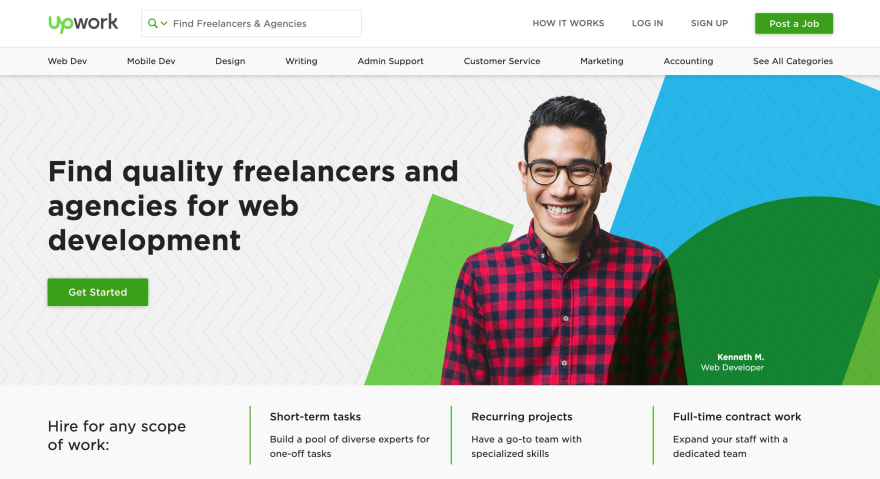 Upwork is probably the first answer you'll get if you ask a freelancer what freelancing website they use. That's because it's one of the biggest remote work platforms with over 16 million registered freelancers and hundreds of projects posted every hour.
While Upwork gets a bad rap for being a melting pot of clients looking for "cheap" services, there are strategies that you can implement to position yourself as an expert and charge premium fees. In fact, some of their highest-rated developers charge as much as $60/hour.
If you're planning to sign up for an account in Upwork, note that they recently made their process a lot stricter in an effort to avoid a flood of freelancers with the same skillsets. At least that's what they're telling everyone.
Pros
Thousands of jobs are posted every day.
You can set your price.
They offer payment protection for both fixed-hours and hourly projects to ensure that freelancers get paid for their work.
Cons
High commission fee deducted by Upwork.
The competition is extremely stiff.
You have to buy bids ($.15-$.9/proposal) to send proposals to clients.
It's currently extremely hard for new profiles to get approved.
6. Fiverr
Fiverr has become popular among freelancers because of its unique system. Instead of clients posting gigs, freelancers can post their services and rates. Like Upwork, it has quickly become a marketplace for the "cheapest" services, with some freelancers asking for $5 for an infographic.
But, same as Upwork, there are strategies you can use to find higher-paying projects here. For example, you can create a pricing tier where clients can get more value the more they pay.
That's exactly what I did to earn $10,000+ through Fiverr.
Remember that the right clients are always willing to pay more for more value. So your job is to show them the potential value you can give for a higher price.
Pros
You can set the price for your services.
You can customize your profile to stand out from the competition.
Most gigs are 5$, but you can see this is an opportunity to introduce a pricing tier.
Cons
Lots of competition.
Fiverr takes a 20% cut from every transaction.
You can't contact clients outside of Fiverr, so if you want to leave Fiverr you can't take them with you.
7. TopCoder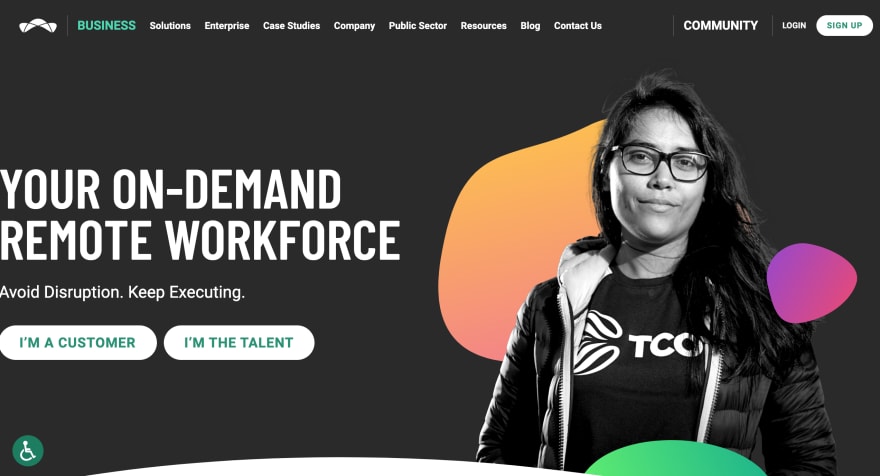 TopCoder started in 2001 by holding competitions for coders to solve challenging tech problems and has since then grown its community to over 1.5+ million members.
It's now a company that provides businesses tech talents ranging from software developers to data scientists, but they haven't strayed far from their roots. They still hold coding competitions where you can win competitive prizes and even practice to upgrade your skills.
They also post freelance gigs called Gig Works where you can apply and work directly with clients.
Another big plus for TopCoder is their practice challenges that allow freelance developers to hone their skills and learn how to start competing on TopCoder.
Pros
You'll get a chance to work with big companies like Microsoft, IBM, and Harvard Medical School.
The active community of coders is a great place to network and expand your skills.
Their practice challenges, Gig Works, and coding competitions help developers improve on their craft.
Cons
The UI is hard to navigate and cluttered according to some users.
8. Gigster
Gigster's take on matching clients with developers is a bit different. Rather than matching the client with an individual developer, Gigster assembles an entire team, using AI, led by a project manager with whom the client communicates exclusively.
The application process of Gigster seems straight-forward enough. There's a resume review, a written screening, and a personality screening. Once you pass these tests, you'll be invited to join Gigster.
Pros
You'll get a chance to work with big companies like Microsoft, IBM, and Harvard Medical School.
They have a regularly updated blog with useful technical articles.
Cons
It took a bit of time and fiddling around to find how to register as a freelancer on the website. To save you the trouble, here's the link if you want to register as a freelancer.
9. Dribbble
Dribbble is a platform where clients can look for web designers whether for a full-time position or a once-off project. It built a reputation as a place to find professional designers, so it's one of the popular destinations for clients whenever they need a designer.
Pros
You'll get a chance to work with companies like Google, Dropbox, Slack, Shopify, and Facebook.
They have a regularly updated blog, a collection of design inspirations, a list of top designers, and even local meetups of designers on Dribble.
Cons
You'll have to pay to be able to message clients looking for freelance designers. The job board is completely free.
10. Arc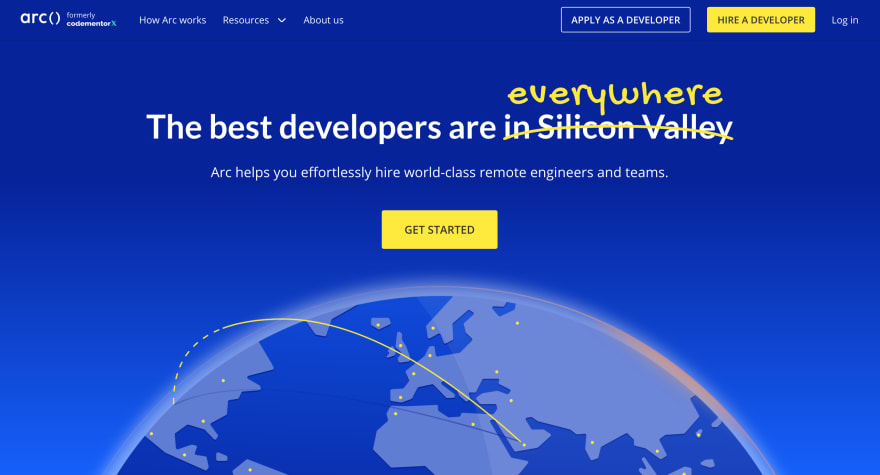 Formerly CodeMentorX, Arc is an exclusive freelance platform with a stringent six-layer vetting process designed to get only the cream of the crop. Six stages may sound like a lot, but getting in will expand your network and get you connections that you would otherwise have to work years to get.
Arc pre-vets developers before handing them over to be interviewed by the client to see if they are a cultural and team fit. Once the decision is made, an engagement manager handles the paperwork and payment processing.
Pros
Passing through their application process will boost your reputation.
You can set your own hourly or retainer rates. Arc automatically sends invoices to clients so that's one less thing to worry about.
They have resources for developers including a salary guide per region, a podcast, a blog, and virtual events/seminars.
Cons
The application process is very strict and may take some time.
There's no job board where you can freely browse freelance projects.
---
I hope this list will help you land a freelancing gig soon.
This is by no means an exhaustive list, so feel free to add your recommendations below :)
Enjoy my content?
XOXO