Are you looking for a keyboard that can help you to work with ease and comfort? Then here is the best collection of the best keyboards for programmers in 2022.
Why Selection of a keyboard is important?
Well, we the programmers spend most of their days on a computer designing, writing, and testing code. That's what makes the keyboard one of the most important tools in our day-to-day job. A coder cannot just simply pick any random keyboard and hope it does the job.
We need to choose a keyboard that makes our work easy, stress-free, and fast. A keyboard that they can type on the whole day without straining and also reprogram it to access the most frequented applications on their computers easily. A great keyboard should minimize how often you use the mouse and consequently boost your productivity.
So, in order to provide you some of the best keyboards for programmers, we have made this collection of The Best Keyboards for programmers 2021. In this collection, we are going to discuss keyboards that you would love as a developer. The list I present is in no particular order, and I'm giving you my personal opinion on the keyboards and some facts.
Which factors to consider while selecting the keyboard?
Well, the keyboard is not merely an input device for hammering out lines of code. Programmers spend the majority of their time typing, therefore, a good keyboard must exhibit the following qualities:
Comfort: one programmer might be comfortable with a high-profile mechanical keyboard, while others might prefer a low-profile, membrane keyboard.
Reliability: a programmer can spend hours typing on their keyboard, and we'd want the keyboard to last for years. So reliability and build quality are very important.
Responsiveness: different keyboards can provide a different level of feedback depending on their switches, keycaps, and other factors. Good feedback is very important so we can spend less time making mistakes in our typing.
Other Things to Consider When Buying a Keyboard
Mechanical vs. Membrane
Basically, There are two basic types of keyboards available: Membrane or Mechanical. The primary difference is based on how the keyboard actuates its input.
Now, a membrane keyboard utilizes a thin, commonly polyurethane film (the membrane) to press on a circuit layer when registering a pressed key. This design allows the keycaps to be much thinner than a mechanical keyboard, so the keyboard is typically more portable.
Besides, the membrane is also much cheaper to manufacture than the parts of a mechanical keyboard, so a membrane keyboard is typically much more affordable.
However, a membrane keyboard produces a mushy feel and less overall responsiveness. It is also much more difficult to clean and has a shorter lifespan.
While, a mechanical keyboard, utilizes mechanical parts, typically spring-loaded switches to actuate the pressed keys. This method offers a distinct response, the 'click' that is unique to mechanical keyboards, giving it a much better response than a membrane keyboard.
Well, a mechanical keyboard won't directly help improve your programming skills, but it does offer a much more comfortable typing experience, which will indirectly help to make the coding experience more enjoyable.
As we know, improving our moods and comfort can significantly improve our productivity, and this is where a good mechanical keyboard comes in.
Key Switch
In a mechanical keyboard, the key switches will dictate the character of the keyboard itself. Also, Different switches will produce different feel and sound to each keypress and will suit different people. This kind of affects the mood of the programmer.
Ergonomics
Well, Keyboards are built in many different designs, including products like the Microsoft Sculpt and Kinesis Advantage2 that provide unique ergonomic designs for additional comfort.
There are also some keyboards that offer unique shapes of keycaps, like the Spherical-All (SA) profile keycaps for different typing experiences. Some also offer features like wrist rests and other features to help with ergonomics.
Since coders can spend a lot of their time typing on the keyboard, it's very important to choose the right shape/profile that will be comfortable for you.
Form Factor
Keyboards nowadays come in three main form factors (in a nutshell, sizes): full-sized, tenkeyless (TKL), and compact/mini.
Compact: This form factor eliminates F1-F12 and the arrow keys, and to access these buttons we should use the function (Fn) keys. There are also other variations like the 65% layout that still includes the arrow keys and navigation cluster (Pg Up, Pg Dn, etc.).

Tenkeyless: There are several different variations to the tenkeyless (TKL) form factor but in general you'll have all the keys as you would in a standard keyboard except the numeric pad (the numeric keypad is also known as tenkey, hence the name).

Full-sized: They feature 104 keys in total including F1 to F12 and a full numeric pad. However, obviously, they are also the largest of the bunch and not very portable.
Which one is a better keyboard type? Prograaming or Gaming?
Well, both offer some amazing features. For example gaming keyboard offers
Precision with anti-ghosting and other technologies to ensure you are getting exactly what you press. In long hours of programming, this can be very useful and improves efficiency.

Extra buttons. Some gaming keyboards offer extra buttons like media playback, volume up/down, and so on. These can be useful to help in aiding your productivity.

Durable. They are designed for long-term aggressive use, and typically also easier to clean.

Lighting If you happen to like the colorful RGB lighting, then it can improve your mood. Obviously, lighting would also help when you work at night or in darker conditions.

Macros. The ability to program certain keys. This can be useful, for example, in cases where you'll need to repeatedly use a certain string. You can easily macro this string on a key.

Extra buttons. Some gaming keyboards offer extra buttons like media playback, volume up/down, and so on. These can be useful to help in aiding your productivity.
Now, let's start the collection.
DAS is another most used keyboard for programmers as it gives easiness and comfort. Das mechanical keyboard for programming has moved from the usual Cherry MX switches we are used to and is instead using gamma Zulu switches. They claim that these switches can last for about 100 million keypresses. That is about 2x the MX. Das Keyboard 4 supports full NKRO over USB. No need to use a PS2 adapter anymore. Just press shift + mute to toggle to NKRO (works with both Windows and Linux).
Product Details
Connectivity Technology: USB, USB 3.0, USB 2.0
Brand: Das Keyboard
Number of Buttons: 104
Keyboard Description: Mechanical
Number of Keys: 104
Layout: ANSI, QWERTY
About this product
Cherry MX switches with Gold contacts for reliability and quality
Rugged construction with the aluminum top panel, built to handle 50+ million keystrokes (20-30 years on average)
Two USB 3.0 Superhub
Volume knob (oversized) and dedicated media controls with the instant sleep button
Laser-etched key inscriptions with Bumps on the F and J keys for touch-typing aid.
Updatable firmware
Elevated height at 1.2 inches (3.1 cm)
N-key rollover with full anti-ghosting
Magnetically-detachable footboard to raise keyboard, can also function as a rule
Advantages:
Sturdy build, as expected from DAS's German engineering
Cherry MX switch, long-lasting with great typing experience
Dedicated media keys and a great, functional volume knob
IFTTT protocol support for integration
Disadvantages:
The volume knob is rather hard to rotate it
It is not the cheapest
The keyboard is high quality, feels very robust, and it's very comfortable, it is a bit high, and we recommend using a palm rest. It has support for multiple Bluetooth devices. Also. it t has a massive battery of 4000mAh, which translates in a lot of time without charging, though I usually have it plugged in, just for convenience. It has support for Windows, Linux, and Mac, and it even provides a different set of keys for mac and windows so that you can customize it to your liking.
We at Themeselection, personally use this keyboard and we find it super smooth and amazing while working on it. We recommend this keyboard as it offers both comfort and speed together. We provide high-quality and easy-to-use bootstrap admin templates, UI Kits, and Admin Dashboard Template.
This is one of the most preferable keyboards for programmers. It is surprisingly comfortable. Furthermore, it is reinforced by a padded wrist rest that makes sure that you do not bend your wrist too much. Besides, the palm rest attaches to the keyboard by a magnet, and you can remove it if you prefer typing on your lap. And what's better is that the tilt is adjustable. You can experiment on different heights to find one that is most comfortable for you.
Product Detail
Connectivity Technology: Wireless
Brand: Microsoft
Number of Buttons: 107
Keyboard Description: Ergonomic
Number of Keys: 107
About this item
Split keyset design helps to position wrists and forearms in a natural, relaxed position
Cushioned palm rest provides support and promotes a neutral wrist position
Domed keyboard design positions wrists at a natural, relaxed angle
Separate number pad provides greater flexibility for workspace setup
Natural arc key layout mimics the curved shape of the fingertips
Cushioned palm rest provides support and promotes a neutral wrist position
Reverse tilt angles the keyboard to promote a straight neutral wrist position
Advantages:
Comfortable ergonomic design
Separate num pad
Wireless
Detachable palm rest
Adjustable tilt
The MX Keys from Logitech is advanced wireless illuminated keyboard crafted for efficiency, stability, and precision. It comes packed with features like Perfect Stroke keys shaped for your fingertips, smart illumination, and a remarkably solid build. This keyboard also supports flow cross-computer typing across multiple screens.
Product Details
Connectivity Technology: USB, USB 3.0
Brand: Logitech
Number of Buttons: 108
Number of Keys: 108
About the product:
Bundle includes: Logitech MX Keys Advanced Wireless Illuminated Keyboard and Knox Gear 4-Port USB 3.0 Hub
Perfect stroke keys: Perfect Stroke keys are shaped for your fingertips and increased key stability reduces noise while optimizing responsiveness
Comfortable design: Tactile reference for hand positioning makes it easy to stay oriented and in your flow
Backlit Keys: The backlit keys light up the moment your hands approach, and automatically adjust to suit changing lighting condition
2-in-1 NPET K10 keyboards have two different usage scenarios - office working and gaming. Fantastic mechanical feeling gaming keyboard, perfect for whatever battles you might face. Besides, it offers high performance as this keyboard adopts liquid silicone conductive film which has good resilience.
Product Detail:
Connectivity Technology: Wired
Brand: NPET
Number of Buttons: 104
Keyboard Description: Gaming
Number of Keys: 104
About this product:
Professional Gaming Keyboard. UV coated keycaps and injection laser carving ABS keycaps design, the letter of characters never fade. Anti-sweat, prevents keycap damage, enhanced durability, and tactile feedback.
Thick and firm stainless steel base plate, long service life, and never deforms. Metal and ABS construction make it more solid and reliable.
NPET K10 gaming keyboard is more durable than the plastic keyboard, your best keyboard choice
Colorful Illuminated Keyboard. 4 LED lighting backlit modes, breathing(7-color alternate).
3 Adjustable permanent mixed backlit modes, changeable breathing, or permanent lighting mode.
104 Keys Standard Keyboard. 13 multi-media keys combinations, 26 keys non-conflict, strengthened space key.
Advantages:
NPET LED backlit gaming keyboard, your best gaming teammate
Strong durability, ultra-thin floating keycap design
Non-slip ergonomic and spill-resistant design
26 anti-ghosting keys, never miss a keystroke during the game
4 LED lighting backlit modes, breathing
Plug and play, easy to operate with the USB braided cable, no driver needed
13 multimedia keys combinations
Compatible with Windows 95/98/XP/2000/ME/VISTA/7/8/10 and Mac OS
Dell Premier Multi-Device Wireless Keyboard and Mouse - KM7321W is engineered with: full-sized yet slim, this quiet keyboard keeps you efficient with all the keys you need. Tilt legs give you the flexibility to adjust to your preferred typing position while the sculpted mouse is designed to fit perfectly in your hand. The native 1600 DPI mouse offers preset DPIs of up to 4000, adjustable via the Dell Peripheral Manager.
Product Detail:
Connectivity Technology: Wireless, USB
Brand: Dell
Number of Buttons: 108
Number of Keys: 108
About this product:
Ultimate Productivity: Wireless - 2.4GHz or Bluetooth 5.0. Seamlessly connect and pair up to 3 devices with this premium combo via RF or Bluetooth connectivity.
Stylish and sleek with a premium finish, this combo lets you work comfortably in style.
12 programmable keys and 5 shortcut mouse buttons let you customize to frequently used applications or functions.
Advantages:
Flexible multi-tasking
Well-crafted design
Durable and secure
The apex 5 combines the high performance and click tactile feel of a mechanical keyboard with the extreme durability and convenience of ip32 water resistance. Built from the ground up for gaming, it also includes a premium magnetic wrist rest, OLED smart display, and per-key RGB. The apex 5 is the perfect hybrid between gaming and real life.
Product Detail:
Connectivity Technology: USB
Brand: SteelSeries
Number of Buttons: 104
Number of Keys: 104
About this product:
Hybrid mechanical gaming switches – The tactile click of a blue mechanical switch plus a smooth membrane
OLED smart display – Customize with gifs, game info, discord messages, and more.
Aircraft-grade aluminum alloy frame – Manufactured for unbreakable durability and sturdiness
Dynamic per-key RGB illumination – Gorgeous color schemes and reactive effects for every key
Premium magnetic wrist rest – Provides full palm support and comfort
900 x 300 x 4 millimeter / 35.43 inches x 11.81 inches
Advantages:
Hybrid mechanical switches
Dedicated multimedia control
If you've ever used a thumbstick or joystick, you'll know how intuitive in-game movement feels with that type of control—the more the stick is pushed, the faster you go and vice versa. With scaling inputs based on how far a key is pressed, Razer Analog Optical Switches work in a similar way and are ideal for racing games, flight sims, and the like
Product Detail:
Connectivity Technology: USB
Brand: Razer
Number of Buttons: 104
Number of Keys: 104
About the product:
Ergonomic, Magnetic Wrist Rest: Made of plush leatherette to maximize comfort over extended gaming sessions (with built-in underglow lighting)
Multi-function Digital Dial and 4 Media Keys: Configure them to pause, play, skip and tweak everything from brightness to volume—the ultimate convenience as you enjoy your entertainment
USB 3.0 passthrough: Instead of reaching over to your rig to plug in a device, you can connect it conveniently to your PC via a USB port in the Razer Huntsman V2 Analog
Razer Analog Optical Switches: Set the desired actuation point to suit your playstyle, or use analog input for smoother, more nuanced control—doing away with rigid 8-way WASD movement for true 360-degree motion
Advantages:
High-end design with high-quality RGB backlight, great if you prefer a gaming-oriented design
Very stable on your table with rubber pads and various designs
Reliable and high-performance Razer switches, some might prefer Razer switches over Cherry MX switches
Great magnetically attachable wrist rests for comfortable typing
Highly programmable, integration with Razer Synapse software
HyperX alloy FPS RGB is a high-performance mechanical computer gaming Keyboard designed to enhance your gaming performance and keeping your desktop layout colorful with customizable RGB LED lighting effects. The HyperX Alloy FPS RGB can be customized with easy-to-use HyperX Ingenuity software to help make your keys pop and stand out. Save up to three profiles and switch easily by pressing the F1, F2, F3 keys to toggle between your different customization profiles.
Product Detail:
Connectivity Technology: USB 2.0
Brand: HyperX
Number of Buttons: 104
Number of Keys: 104
About the product:
RGB backlit keys with dynamic lighting effects
Advanced customization with HyperX Ingenuity software (available via download)
Compact, ultra-portable design with detachable cable
Solid steel frame
Silver speed mechanical key switches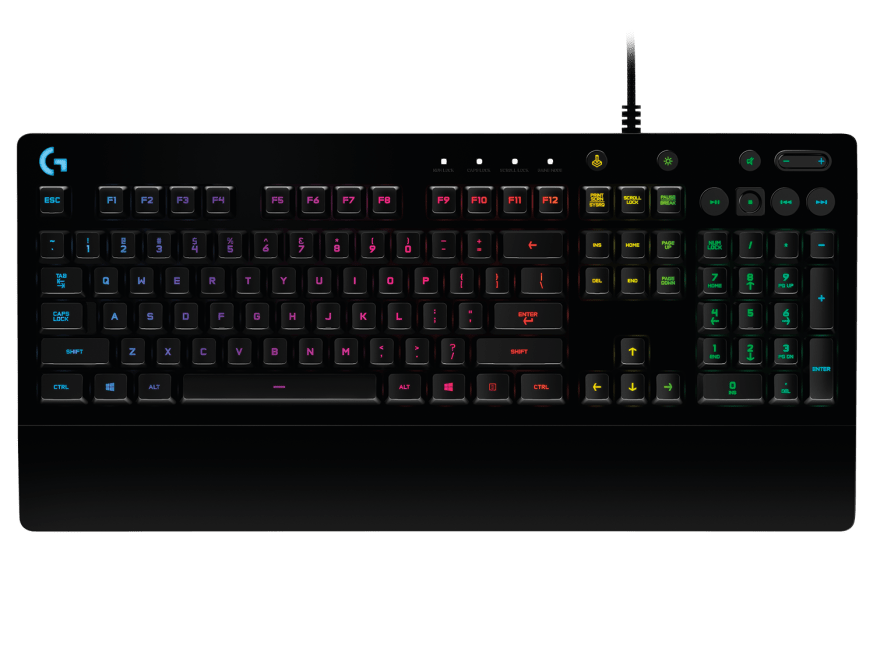 G213 Prodigy is a performance-driven wired Logitech keyboard designed for gamers of all levels. Slim, durable, precise, and spill-resistant, G213 Prodigy is designed for the way you play. Personalize brilliant Logitech RGB color lighting and lighting patterns to match your style from a spectrum of 16. 8 million colors. Customize all 12 Function keys to quickly and accurately execute complex maneuvers. With performance-tuned keys, G213 Prodigy brings together the best in tactile feedback you can feel and gaming-grade performance. Keys are tuned to deliver ultra-quick, responsive feedback that is up to 4 times faster than the keys on standard keyboards, while the anti-ghosting gaming matrix prevents response delays even when you press multiple keys simultaneously. And with dedicated media controls, you can play, pause, and mute music and videos instantly right from the keyboard.
Product Detail:
Connectivity Technology: Wired
Brand: Logitech
Number of Buttons: 104
Number of Keys: 104
Keyboard Description: AWERTY
About this item
Prodigy Series Logitech G keyboard for advanced gaming-grade performance up to 4x faster than standard keyboards so every keypress is near instantaneous from fingers to screen
Brilliant Color Spectrum Illumination lets you easily personalize up to 5 lighting zones from over 16.8 million colors to match your style and gaming gear
Tactile performance keys tuned for gaming with responsiveness and more. LCD Display: No
Dedicated media control let you quickly play, pause, skip and adjust the volume of music right from the keyboard
Easily customize key lighting, 12 Function keys with custom commands, and more with free Logitech Gaming Software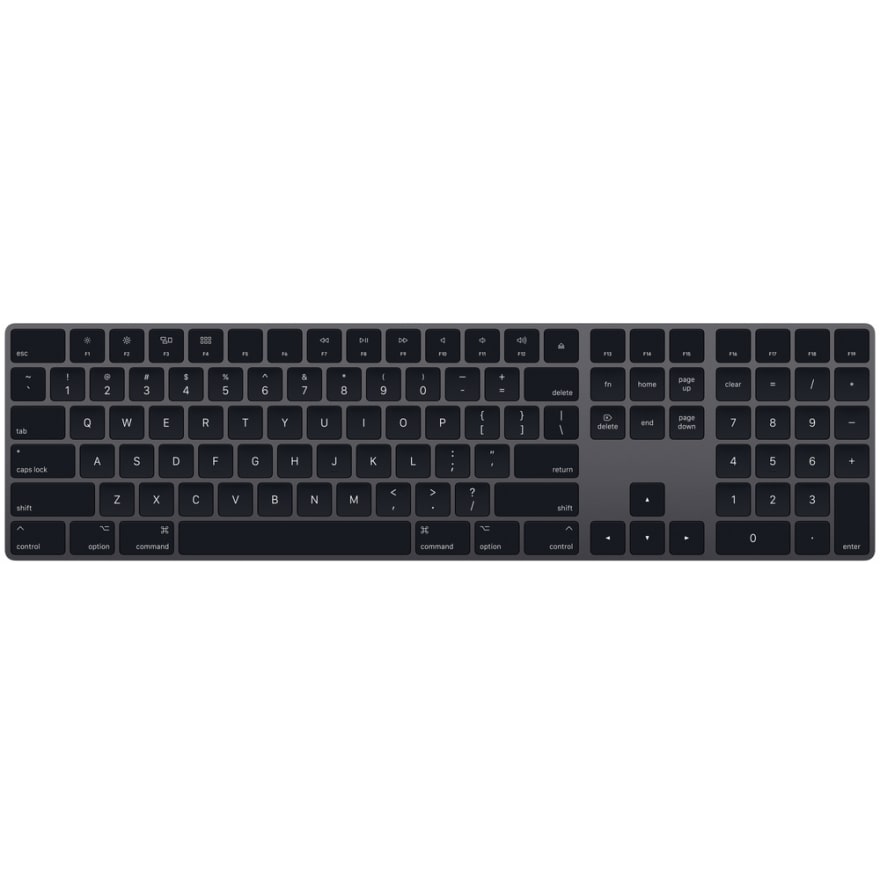 Magic Keyboard with Numeric Keypad features an extended layout, with document navigation controls for quick scrolling and full-size arrow keys for gaming. A scissor mechanism beneath each key allows for increased stability, while optimized key travel and a low profile provide a comfortable and precise typing experience. The numeric keypad is also great for spreadsheets and finance applications. And the built-in, rechargeable battery is incredibly long-lasting, powering your keyboard for about a month or more between charges
Product Details:
Connectivity: Bluetooth, Wireless
Keyboard Description: QWERTY
About the product:
Magic Keyboard combines a sleek design with a built-in rechargeable battery and enhanced key features.
With a stable scissor mechanism beneath each key, as well as optimized key travel and a low profile, Magic Keyboard provides a remarkably comfortable and precise typing experience.
It pairs automatically with your Mac, so you can get to work right away.
G915 is a new class of Wireless mechanical gaming Keyboard with 3 selections of low-profile GL switches and pro-grade 1 ms LIGHTSPEED Wireless. Capable of delivering 30 hours of non-stop gaming on a full charge. Fully customizable per-key, LIGHTSYNC RGB technology also reacts to in-game action, audio, and screen color as you choose. With a sleek, impossibly thin yet durable, and sturdy design, G915 brings gamers to a Higher Dimension of play. Programmable G-keys let you create and execute complex actions simply and intuitively and the volume wheel and media keys give you fast, easy control over video, audio, and streaming.
Product Details:
Connectivity Technology: Wireless

Brand: Logitech
Number of Buttons: 104
Number of Keys: 104
About the product:
Worlds NO. 1 Best Selling Wireless Gaming Gear Brand - Based on independent aggregated sales data (FEB '19 - FEB'20) of Wireless Gaming Keyboard, Mice, & PC Headset in units from US, CA, CN, JP, KR, TW, TH, ID, DE, FR, RU, UK, SE, TR
LIGHTSPEED wireless delivers pro-grade performance with flexibility and freedom from cords. Creates clean aesthetics for Battlestations. Delivers 30 hours on a single full charge.
LIGHTSYNC technology provides next-gen RGB lighting that synchronizes lighting with any content. Personalize each key or create custom animations from ~16. 8M colors with Logitech G HUB software.
Low Profile mechanical switches offer the speed, accuracy, and performance of a mechanical switch at half the height. The GL Clicky switch features a distinctive sound and tactile feedback. Comes in 3 options: GL Tactile, GL Linear, or GL Clicky.
Advantages:
Low-profile design with ultra-thin body
Great Logitech key switches with reliable performance, a lot of people prefer Logitech switches to Cherry MX
Great LIGHTSPEED wireless connectivity, very low latency
RGB backlighting with Logitech LIGHTSYNC
Disadvantages:
Expensive
Skeletal design can trap dust
---
Conclusion:
So, this was the collection of the best keyboards for programming in 2021. Here we have gathered some of the best programming keyboards that can help you work comfortably and smoothly.
As you can see, getting the right keyboard is a combination of several factors. Besides, there are also some technical aspects to it that an average user will find hard to understand. We have discussed those factors at the beginning of the collection in detail.
We hope this collection helps you pick the best one by considering each factor independently. Do tell us which one is your favorite keyboard in the comment section below. Do share your keyboards pics as well..!!