This blog talks about 6 simple yet effective way to minimise procrastination.
Procrastinating simply put, means that you're putting off something important in order to do something fun. It does not apply just to work such as academics. You could be "procrastinating" anything -  from simple things like catching up with friends or cleaning your room  -  to much more serious things like applying for a new job or doing a project that will really help your career.


I found myself doing this a lot and sought to understand the decisions that revolve around procrastination. This led me to find the video that changed my life - 
Inside the mind of a master procrastinator by Tim Urban.
I strongly recommend this video to anyone who is reading this. It will help you understand why you do things or take decisions a certain way. After understanding what I was doing wrong I decided to make some changes to my approach to getting work done. I've listed them below hoping it will be of help.
1. Don't have a "Plan B"
Having a plan B is built-in when you're a procrastinator. Whenever you make plans you keep in mind, there is an easier and less effective alternative in case you fail or not do it at all. So lose your plan B. You will not procrastinate if there is no backup plan.

2. Don't wait for the perfect moment
Have you done this? 👉 "Its 9:45 now, hmm... let me start at 10:00" (Why? simply because 10:00 is a round figure - THIS IS AN EXCUSE!!) This dangerous thought process has been my biggest enemy and every procrastinator is guilty of doing it on a daily basis. Waiting for the right moment is basically giving an excuse for not starting something. Avoid this thought(not easy but surely possible). Start then and there.

3. Pixellate the big picture and reward yourself
Split the big picture into tiny pieces. When you are trying to get a big task done - you don't know where to start, you have a lot of questions or you simply feel nervous about the outcomes, then re-watching a Netflix show may seem like a better option. However, breaking it down and finishing of one piece at a time will get rid of the feeling of overwhelm.
Put down a checklist( - use an app or pen and paper to actually jot it down) the multiple small piece. Every time you complete a tiny task, scored it off of the list. This will give you a sense of accomplishment that'll drive you to the finish.


It can get tedious and boring when you need to finish work that's gonna take multiple hours straight. In such cases, use the split-up technique and reward yourself each time you finish a couple of subtasks or a target you've set for yourself.

4. Tell some one about your plans
This technique may sound unconventional but it is my personal favourite because it works especially when there's something new you want to try but just can't find the motivation to do or tend to forget about it.
Tell someone about what you're gonna do, every time they follow up you will be reminded and you will actually end up doing it.
Talk to or read about someone who has already done what you are about to try - their journey will inspire you to do it.
5. Imagine the right outcome
Sometimes, the outcome of your work or task may make you nervous enough to stop you from trying it. This technique comes in handy for such cases. Take the time to imagine that you have done it, you have accomplished your goal. Tell the right outcome to yourself - "I wrote a blog on my new app and it was very well received." instead of "What if no one reads my blog?" because one mediocre blog is better than no blog at all.

6. Change your environment
Sometimes simply moving to a different environment can make you more productive and help you get work done. As someone who is used to sitting at a work desk, I find that sitting outside my house with fresh air helps me finish work faster.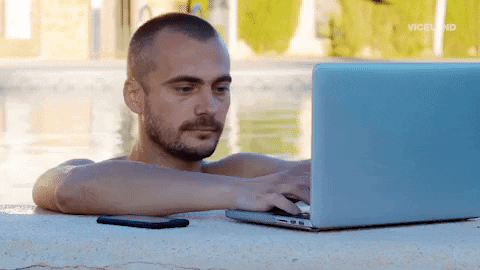 This concludes my take on keeping procrastination at bay. Please do share your thoughts and any ideas that have helped you minimise procrastination (I would love to try them out) or leave feedback in the comments section. You can also find me on Twitter. Thanks for reading!