I believe, engineers can make a beautiful design.
I'm an iOS\macOS developer by the background and also make all the designs in my company. Mostly I focus on the product design: defending users' needs, finding the best solutions, initial prototyping, UX flow, screens. It's all about making usable products and experiences.
Sometimes, I need to work with marketing design: banners for Christmas, gifs for Black Friday deals, illustration for our open-sources projects (like Awesome Design Tools) or new visuals to test on our marketing landing page… Oh, wow! That's a lot of work. Luckily, I can grab some free SVG images & illustrations from very kind and talented people in our community. Then make custom changes and use them.
Thanks to all those designers, who allow engineers like me to overcome the struggle with creating custom illustrations.
I'm sure, readers of dev.to will find these illustrations sites very useful for the day-to-day work:
---
Open Doodles, Humaaans and Buttsss
It's amazing free illustrations by Pablo Stanley. Let's talk more about them.
Open Doodles is a set of hand-drawn vector illustrations. You can download the source files or play with the generator to create your own. While Humaaans is a library to mix-&-match illustrations of people. And you can also customize their positions, clothing, colors, and hairstyle.
Buttsss is the most daring collection of butt illustrations. Just have fun and use them on your pitch deck, presentations or marketing campaigns.

LukaszAdam Illustrations
It's a weekly updated collection of vector art illustrations and icons. Made with love by a very kind and talented independent web designer, Lukasz Adam.
unDraw
I'm sure you heard about unDraw, a constantly updated collection of svg images made by Katerina Limpitsouni. You can find the images that fit your needs and download them in one click. On-the-fly color image generation is also available.

IRA Design
It will help you to create amazing illustrations, using hand-drawn sketch components. You can mix &match five available color gradients, customize different components (like characters, objects, and backgrounds) and download everything for free.
DrawKit
A cool collection of svg illustrations ever. All of them are made in two different styles, bright color & simple sketch. Free to use on your website, app, or project.

Freepik
A search engine that helps to locate high-quality photos, vectors, icons, illustrations and PSD files for their creative projects.
Ouch
This site helps creators who don't draw overcome the lack of quality graphics. Just take a look at these unique illustrations in 20 different styles made by top Dribbble artists.

Pngtree
The largest png free resource platform. It has a million graphics resources made in different styles, like images, backgrounds, text effects and illustrations.
Wannapik
A huge collection of free illustrations, vector images, photos, and animations for any use. Just take a look!
Open source illustrations kit
This project was a #100daysChallenge for Vijay Verma, who was designing cool illustrations since 2016. Then Vijay decided to share it with all the design community!

Absurd Design
A series of illustrations that paradoxically combine absurdity and a deep sense of childishness and naivety. The main idea is to give people a chance to think and spark their creative imagination and artistic vision. I am sure, it'll be interesting to use on your website or app :)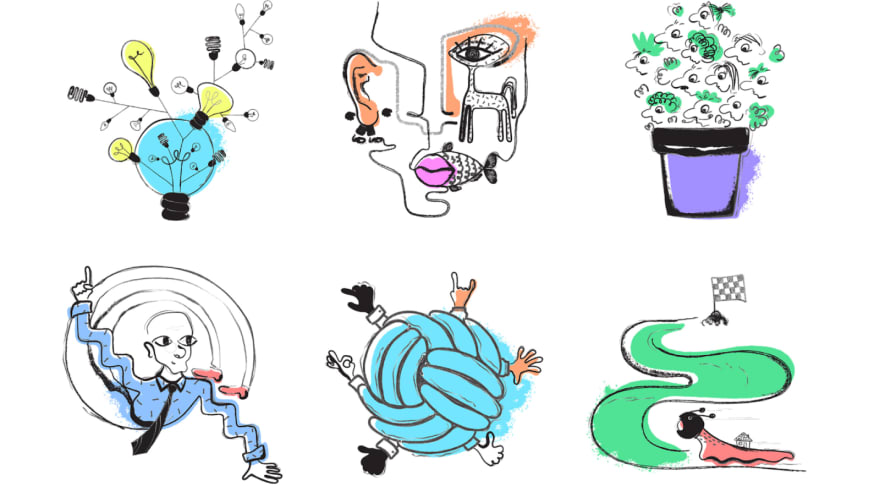 Final words
Let's be good citizens on the tech community and make the wise use of prepared illustrations. So when you work with free illustration, follow these simple rules:
Make the illustration consistent with your brand voice.
Be open to check for inspiration in other designers' work. Sites like Dribbble, Awwwards, or Mobbin can be very helpful.

Be brave. Combine illustrations, stock photos, frames (here you can find dozens of free stock photos). Sometimes it can give fast and good results:


Check for copyright. While most of the free illustration sites are copyright-free, it's better to double-check.

Give the original author credit somewhere on your site. You can leave a link, put image source or just a mention in Twitter designers, who helped you:
Ahmed

@ahmed_sulajman

20:19 PM - 16 Dec 2019
Thanks for reading and let's support this great movement of open design.