In this tutorial, you will create a small game 👾 for the Apple Watch based on the game of rock, paper, and scissors 👊✂ 📃.
Requirements
Mac OS Mojave or higher.
Xcode 10 or higher.
iPhone simulator.
Apple Watch simulator.
To start, we created a new project in Xcode of the WatchOS type.
Fill the Product Name input with the value "RockPaperScissorsSwift" and then uncheck the option Include Notification Scene.
🖥 A normal iOS solution is created with two additional projects.
WatchKit App (where the storyboard goes)
WatchKit Extension (code of the controllers)
The graphics interface of the project should be as follows:
🖐❇️ The construction of the interface is the same as in iOS dragging controls and should be as follows:
Label to see who chose the watch (stone, paper or scissors)
Label to see the result (win, lose, draw)
White thin line separator
GroupView with three buttons
GroupView with a label on the left and a timer on the right
The Label to see the result must have a height proportional to the size of the clock, to assign these values in the Size section.
Width, is assigned Relative to Container with a value of 1, which will take 100% of the width
Height, Relative to the Container is assigned with a value of 0.4, which will take 40% of the clock's height.
A GroupView is a view that accommodates each control side by side horizontally.
To align a control within a GroupView to the right in the toolbox within the Aligment section with right value.
The timer is a control that shows a type of clock in the form of Label.
Code 🛠
Declares an array options with the 3 elements and a variable counter to bring the number of games won.
When initializing we place the images to the buttons and the timer starts to show the elapsed time.
A function is created with the logic of how to determine the winner.
The complete code of the controller is as follows:
The project is executed and the application is executed as follows: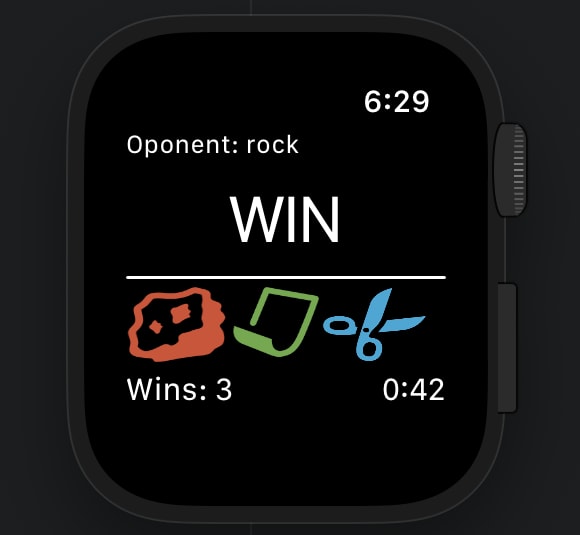 Conclusion
Creating an application for the Apple Watch is very similar to building an iOS application, in this example we saw that with basic controls you can create great things.
🌎 You can check the application code on Github