Hello to all my community people :-) This is my third post and I'm thankful to everyone because I love this community.❤️😃
---
I'm going to share the best youtube channels which are underrated but they are providing core values to the development community with high-quality videos and you'll not regret after watching their videos...
---
Watching videos will not make you successful until you start writing code by yourself after understanding from tutorials. If you love only to watch programming videos but not do coding after that, then you're in a trap of Tutorials...
---
1 Codevolution channel Link
He's the guy who explains everything in the simplest way to make you understand the topic completely. He more focused on JS related videos like typescript., react and angular, and vanilla JS. The quality is great.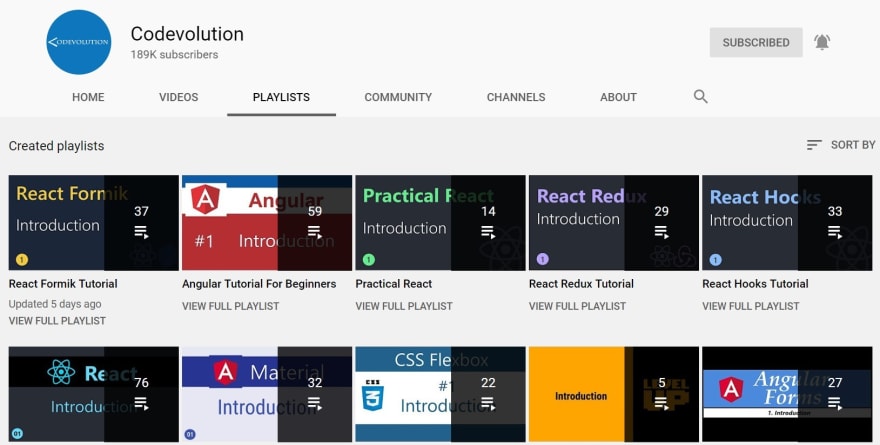 ---
2 Coding Addict channel Link
He's providing complete 3hrs+ courses of javascript, react js, and many other technologies free of cost with a great explanation. You'll love it.
---
3 Colt Steele channel Link
He's the amazing instructor at Udemy but he's also providing good content on javascript and other technology on youtube. His latest video of JS for a beginner is good to start.
---
4 CS Dojo channel Link
If you want to start competitive programming but don't know how then go and watch his channel, full of tricks and experiences he has with competitive programming.
---
5 Design Course channel Link
If you want to improve your development as well as design knowledge then this channel is for you. He's making regular videos on both things i.e design and development.
---
6 Dev Ed channel Link
This channel is all about python and javascript related content and he brings new small projects regularly and you'll enjoy building that with him.
---
7 Florin Pop channel Link
This young guy brings a lot of challenges whether it's 100daysproject, solving freecodecamp curriculum, designing, and codewars.js, and many other things. You'll get motivated after seeing his motivation and determination and love towards programming.
---
8 Ania Kubów channel Link
If you want to learn javascript by building games, then this channel is for you with soo many games. I love this channel and I learned a lot from this channel while building projects. Condition*: Be familiar with JS first with few projects then it's easy for you to understand these games.
---
9 The Net Ninja channel Link
He brings a lot of detailed stuff of different technologies and makes you understand that stuff with ease. So that you'll not feel uncomfortable with that language while learning. In simple, you'll start loving that technology after watching his videos.
---
I'm also sharing a short microblog on my page also.
If you have doubts regarding development or UI/UX Design. Please feel free to connect with me on: ❤️😃
Instagram Page
Linkedin
Regards
Akash