I have literally built over 300 landing pages since I have been working as a developer and if I had to explain someone what a landing page is I would say something like "A webpage with just one goal", the goal could be anything, getting a lead to sign up, newsletter subscription, sending the user to play store/app store".
---
⚡️ Giveaway ⚡️
React to the article with a Like and Comment and instantly win a full license to one of the templates. All you need to do after you react is to visit the template maker website, contact the author via the form and mention your Dev.to username and the template you need. You will then receive an email from the maker with a Wetransfer link to download your desired template. It can take from a few minutes to a few hours to receive the template due to time zone constraints so please give it a little time.
Offer ends on 31 Dec 2020.
---
I think I have perfected making "Landing pages for freelance clients", I get a lot of requests which basically do the same thing.
Coding the webpage

A lead form which sends data to their CRM

Send an email when a form is submitted
During my initial days, I would make the client purchase a server, to host it but these days, the concept of web development has changed a bit and companies like Netlify, Vercel, Firebase etc have made hosting free as long as your site is static, they go even beyond free hosting, they provide lambdas for free, which means you get simple backend deployment for free.
Almost every client of mine these days want to get their work quickly as possible and sometimes its a little difficult when you are working alone and getting the design, performance, accessibility is difficult.
Hence I have curated a list of landing pages which get the work done. All of these landing pages can be purchased as a bundle package for an affordable price which includes all future updates and all new templates released by the author like a lifetime membership.
---
Templates for Business
A business HTML templates that checks everything from beautiful illustrations, responsive, info clouds, pricing section, a lead gen form to testimonials sections, it has other features as well which have been coded and documented with the utmost care and thought on a granular level.
It follows a unique style of illustration across the template making it feel very uniform and clean.


Evolo also comes with a contact us form and google map section, making it perfect for your upcoming startup to get your users attention and be memorable.
Evolo template also has a scroll spy navigation bar, highlighting the current section you are in.
Apart from the Home page, Evolo also provides you a Terms & Condition and a Privacy Policy pages. The template is also well documented with each sections having their own segregated comments which provide a good Developer Experience, making it a breeze for the developer to get it started.
Need something very robust, and strong, with bold typography, then Sena is right for you. Sena means an Army in Hindi, and the Sena template too is battle-tested with some good testimonials from realtime developers making it one of the best in this list. It has beautiful bold colors and matching illustration to go along with it.
Sena includes
Info cloud cards

Full-screen feature grids

A video section with youtube popup

A services page.

A pricing page three different templates

About page with team section, a timeline section and information section.

An article template

TnC page.

A contact us page with lead form & Google maps section.

Clients section in an equally spaced grid.
Highlight of the template: Beautiful Transitions
Running an agency or servicing clients? Introducing Juno with the beautiful read + orange gradient. Juno is made for lead generation in mind, a form on the hero section making it clearly visible for your users to sign up or contact you.
Juno has a simple services section to write down what you offer along with some excerpt.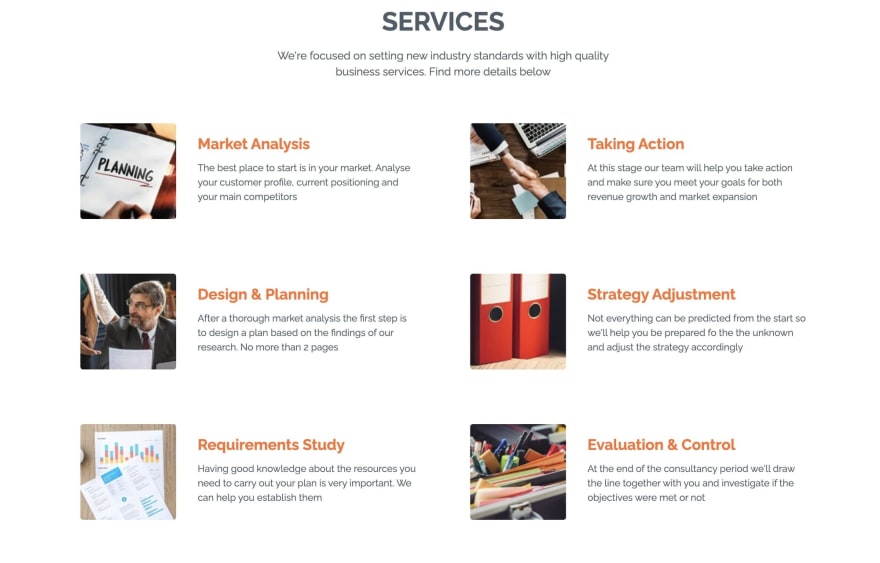 Juno offers
Feature set carousel

Pricing section

Works section

Products section, in case you offer software for your clients

A Youtube video popup section

A animated statistics section

Testimonials carousel.

A two-column contact us layout with Google maps + Form.
Highlight of the template: The Popup works section.
If you are running a business which caters loans to your clients, then Cedo HTML template would be your best friend making it a perfect match for your needs. Cedo has cute illustrations blended with a beautiful shade of purple which gives a very soothing feeling to the one who has landed on the site.
Cedo Offers
Loan options icon clouds section.

A "Loans Provided" section to state your loan offerings.

Approval section explaining the procedure in steps

Articles template page

Tnc & Privacy policy template pages.

A two columns layout for contact us section with Google maps and form.
Highlight of the template: The Cute illustrations.
Need something eccentric with an earthy feel, this could be perfect for your consultancy or agency. The Aria HTML template is made with Bootstrap with an amazing intro section capturing your leads attention.
Built with Bootstrap it can be a great foundation for your online business presentation due to the integrated features like morph text for a dynamic header section, text slider for testimonials, grid filtering for portfolio projects, lightbox details for additional projects info, count-to numbers for important values.
ARIA template provided.
A full-screen hero section with title, subtitle and a bold CTA.

An introduction section with info clouds.

A quotes section showcasing your services.

A feature grid.

Testimonials section.

A "Call Me" Section with text content column and a form.

Project section, for highlighting your previous works.

Team Section.

Animated stats counter.
Highlight of the template: The Intro Section.
Vera HTML template is the boldest among this list making it eye-catching and stand out among the crowd.
Vera is a business HTML Bootstrap website template that works great for presenting companies, offered services, project portfolios and generating leads for the offered services.
Vera is available in a dark design style with a high contrasting orange color for buttons and icons which inspires strength and confidence to your message while creating the right setting for visitors to follow your call to action.
Vera offers
A hero section with morphed text animation.

A clients carousel.

A big feature set grid.

Expertise info clouds.

The video section with three column excerpts.

A pricing grid.

Works History section.

Animated stats counter.

A Services page.

A pricing page with three different layouts.

An about page with team section.
Highlight of the template: The strong points grid.
Viso is made specifically for recruiting companies and want to list jobs for your agency, Viso HTML template would be the one to choose. It has a clean white template with beautiful illustrations.
Viso is a recruiting agency HTML Bootstrap website template designed for recruiting agencies to display job listings in two formats one as a filterable grid or as a basic list. The template has a clean light design with modern illustrations which set the right tone for visitors to browse through the jobs offering and choose the one that fits their profile.
It highlights your agencies strengths, services you are providing to your clients, your statistics your job listings and it's just a bliss to use this template.
Viso provides
Section explaining your services.

Job Listings on the home page.

A Job listing submission form with a resume upload option.

A Job details page.

Lightboxes for job listings.

A testimonial carousel.

HR Services your company provides.

A services page.

A pricing section and a pricing page with three different layouts.

Animated stats counter.

Your client's section.

A newsletter signup section.
Highlight of the template: The Job application form.
Running a SaaS business is difficult and you need to make sure you stand out from the crowd and I believe the Zigo HTML template will let you do this. Zigo has been made with explaining your saas features clearly with tabs, info clouds and the support you provide along with the services.
Zigo has a light style with decorative SVG backgrounds and illustrations that make your content stand out and persuade visitors to register for a consultative call.
Zigo HTML template provides
A hero section with two CTAs

A service section with info clouds.

A feature set tabs section.

A Youtube video popup section

Clients carousel

Lead capturing form

A timeline section of your company with team member sections.

A contact us section

An article template page

Terms and service, Privacy policy page.
Highlight of the template: The feature set tabs
---
Templates for SaaS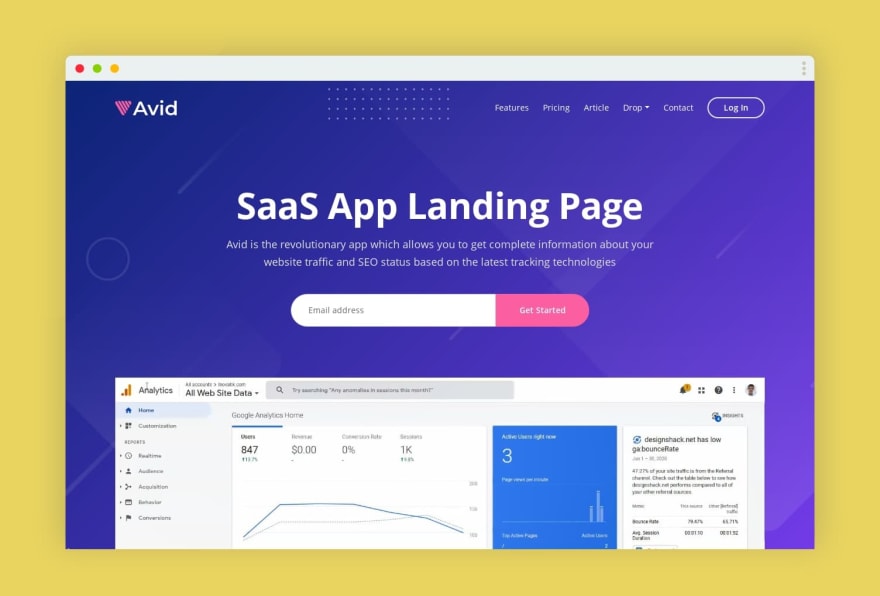 This HTML template is perfect for your SaaS product. Avid features a video in your Hero section, to demo your software, it has a beautiful gradient background with the perfectly balanced colors.
Avid has a section for all the things which a typical home page of any SaaS website has, plus the below features.
🌄 Included images.

📹 Header video.

💯 Statistics numbers.

📒 Details lightbox.

💳 Card slider.

🔽 Dropdown navigation

🗓 Extra pages.

⭐️ Images and text logo

⌨️ Working forms

𝓖 Google Fonts

😎 Font Awesome

📱 Responsive design

✅ W3C valid code
Avid also features a beautiful pricing page, a template to cover your blog needs, a contact page with Google maps embedded & Login/Registration pages.
If you're looking for something emphasizing leads conversion for your SaaS service, I would suggest the Ciel HTML template. Ciel is built with Bootstrap, Google Fonts, Font Awesome and it's very engaging to have your users sign up. The best part of this site was is the minimalism and the default color palette.
It has a good developer experience with excellent documentation and it is completely responsive.
Ciel is a SaaS app website template built with HTML and Bootstrap for presenting SaaS apps to the online audience while convincing visitors to sign up and start using them.
Ciel's clean design with blue color accents creates a tech innovation atmosphere that enables visitors to focus on the content while making a positive impact on their perception for your SaaS or web app.
Highlight of the template. - The Animated Statistics Counter
Need something calm, easy & clean for your SaaS business, Webly HTML template has nailed the landing page design in terms of aesthetics. It loads really fast and has lots of pre-designed sections covered for almost all the use cases you imagine.
Webly is a SaaS app HTML Bootstrap website template designed to help you build a stylish and efficient online presence for SaaS applications and convert visitors into users. It has a clean design with blue abstract backgrounds which create a contemporary tech atmosphere for your app presentation.
Webly template features
A hero section with a replaceable image for your service.

A quick lead capturing form.

Bootstrap, HTML/CSS and JS.

Image slider.

Text sliders.

Details lightbox.

Dropdown navigation.

Included extra pages: project details, privacy policy, terms and conditions.
Tivo has a very vibrant layout, with bold colors and explaining your service right on the hero section. It has an Indigo color theme giving it a modern look and feel.
It handles all your repeated marketing sections and allows you to focus more on the product development, content and research.
Tivo has been tested by many developers and product managers from around the world.
---
App Landing Pages
Revo is an HTML template made especially for Desktop Native apps and getting your users to sign up for a trial.
It has a calm blue color palette which looks modern yet simplistic. A carousel on the hero section to showcase different screenshots of your apps. Revo template is made with Bootstrap, HTML & CSS.
Revo has a lead generation form for signing up your users for a trial and a very snappy lightbox for showcasing features.
Looking for a lean and minimal template which is not verbose yet delivers the message? Then the Leon HTML template is the right one for you.
Leon has a clean light design with a contemporary color scheme to maximize the impact of your content. Together with touches of turquoise for buttons the overall landing page design showcases your app beautifully and convinces the visitor to download it from the app stores.
The template also includes the smartphone mockup which can be used for free for your project.
This template offers
A hero section with an animated text rotator.

A fixed Navbar with dynamic background color and height.

An equal spaced grid for information.

Lightboxes.

A features tab.

A Video section with an animated play button for getting the users attention.

A unique FAQ section

Testimonials Slider.

Animated Stats counter.

Clients carousel.
It also includes extra pages for articles, a features page, a pricing page with three different layouts, a contact us page and the legal pages.
Highlight of the template: A Mockup of the phone, which can be edited with whatever screenshot you want to.
Sync HTML template is made for apps with productivity, meditation (a personal opinion). It has a nordic color palette theme making it feel modern and beautiful. The template is W3C compliant and responsive to its core.
Sync has a minimalist but stylish design in a light theme with gray backgrounds and colorful accents that highlight your content and create a memorable experience for visitors.
Sync HTML template has a lot to offer.
A beautiful hero section

Google Play Store and Apple app store CTAs.

App feature sections

A bold and big testimonials section
Highlight of the template: The hero section image
Devo is a mobile app website template built with HTML and Bootstrap for promoting mobile apps to the online audience and to persuade visitors to download them from app stores.
Devo is a fun and colorful template with circles everywhere giving a very happy vibe with the choice of colors and accents. Devo has an eye-catching light style design with fresh colors which attracts the visitor's attention and helps you convince them to download your app.
Devo Features
Responsive design
W3C valid
Included images
Smartphone mockup
Morphtext
Tabbed content
Details lightbox
Image slider
Video lightbox
Text slider
Statistics numbers
Dropdown navigation
Extra pages
Riga HTML template has a ton to offer for your app. This template is specifically made for mobile apps website template, it is made with HTML and Bootstrap to help you showcase mobile apps online and persuade visitors to download them from popular app stores.
Riga has an impactful dark style design combined with warm colours and angular background shapes with the unique goal of making your mobile app stand out from the crowd and turning visitors into users.
Morphtext in the header, animated navigation that slides from outside the screen, details lightbox for more details information, statistics numbers for important values and card slider for testimonials.
The template also includes the smartphone mockup which can be used for free in your project.
Riga HTML template features.
Bootstrap, HTML/CSS and JS
Responsive design.
W3C valid
Included images
Smartphone mockup
Morphtext
Animated navigation
Details lightbox
Statistics numbers.
Extra pages
Card Slider
Leno is perfect for mobile apps, making you capture leads for your apps. It is convincing yet subtle to get your users to the respective App store/Play Store.
One of the best parts of this HTML template is this section. Featuring all your features in this layout.
Leno also provides an animated statistics counter and a beautiful carousel section for showcasing your screenshots.
Leno also has pages for pricing, a separate page for showcasing and explaining your app's features, an article page if you are planning on writing blogs.
Poly is an HTML template specifically made to highlight your app's features, with no bloatware or excess verbose content, it was made for telling your app's story and explaining the core features making it a perfect template for your upcoming app.
Poly is a mobile app HTML Bootstrap website template designed as a great foundation for creating professional looking and efficient online presentations for mobile apps.
Poly template offers
Responsive layout.

A scroll spy navbar.

Clean and clear documentation.

Testimonials section.

Video Section.

Feature cards.

Lightboxes for showing extra content.

Screenshots slider.

A project details/article page template.

Newsletter signup section

Contact us section.
Portfolio Templates
---
Porto HTML portfolio template is made especially for designers and developers, it's scalable, and can be connected to any CMS easily to manage and update your content on the fly.
Porto has a very minimal yet bold design making it a good choice for designers to showcase their work. It is built with HTML and Bootstrap to help freelancers create an engaging online presence for their skills, experience and most loved projects.
Porto offers.
A summary section explaining what exactly you do.

Your Skills section.

A three-step process section.

Experience section

Testimonials part.

Clients slider carousel

A section specially made for "Service you offer".

Projects you've worked on.

Contact section.
Apart from these, Porto also offers individual pages for projects, in case if you want to write detailed case studies on how you worked on them.
Tuby HTML template has a very niche target, if you are running a youtube channel or if you are a social media influencer/creator, then this template gets it done for you.
Tuby is a YouTube show HTML Bootstrap website template that works great for presenting and promoting online video shows and YouTube channels while also monetizing them with affiliate links.
The best part about this template is, it has been by researching multiple content creators sites and the developers have created this specifically for this use case.
Tuby offers
Videos slider if you have a series to showcase.

A grid of your top and most popular videos to highlight, the videos are opened in a popup keeping the page performant.

A unique Testimonials section.

Highlight copy based sections.

A ebook section, in case if you are planning on selling your content digitally.

Newsletter section.

An article template for your blog needs.

Tnc and Privacy policy pages.
Highlight of the template.
---
Courses/Digital Downloads Templates
Tutor is a video course HTML Bootstrap website template which works great for presenting video courses, online training, learning classes and for persuading visitors to acquire them.
I too am planning to make my own course on Vue and Nuxt.js and I am planning to use the very same template to highlight my courses advantages because it has everything I need to get my course started.
It has a very beautiful orange gradient background making it pop and memorable.
Tutor HTML template offers.
A Hero section with course preview popup.

"What will you learn?" section, with popups on clicking them (which can be disabled easily, in case you don't need them).

Course Highlights section.

Course Table of contents index section.

Animated stats counter on viewport scroll.

Testimonials.
Running a Bootcamp or making an online virtual class which is about to go live, then Stream HTML template if a good choice. Stream is an HTML Bootstrap website template designed to present online live classes, webinars, workshops, courses, meetups and convince visitors to register for them.
Stream HTML template has been made after researching multiple course websites, taking the best parts of it and removing all the excess unnecessary bloatware.
This template is made for building your trust and taking a very good approach on how these sections are laid out.
Corso is perfect if you're running workshops, it highlights your clientele, their testimonials, your skill. It explains what your users will be expecting without having to look through everything or google anything about, all the information is put up in a clean single page.
Corso is a training course HTML Bootstrap website template created for presenting training courses, online classes, workshops and for convincing visitors to register for them.
It has multiple contact us sections, along with newsletter subscription forms. Corso has a mixed design style with light and dark backgrounds which create a modern setting for your event presentation together with the contrasting black/yellow color scheme.
Corso offers
A hero carousel section with images and text.

Countdown timer in case a workshop or course is up coming.

Sign up form for capturing leads.

Educator information section.
Selling online can be difficult sometimes and you need to research a lot of things before putting it up on the internet and the Argo HTML template has been made just for that, the developer behind this has done quite a bit of his own research on how to run online courses making this a quick and perfect choice for instructors who are selling their training digitally.
Argo is a training course HTML Bootstrap website template focused on promoting online training, live courses, video tutorials, coaching classes, webinars and persuading visitors to attend.
Argo has a dark style with abstract backgrounds to make your content stand out and convince visitors to register for the course. It is built with Bootstrap, HTML/CSS and JS it features a countdown timer, text slider for testimonials, image slider for gallery, details lightbox for instructor information, statistics numbers for important values, dropdown navigation.
Argo offers
A dark them with very great colours to match its contrast.

Countdown timer for selling your course as a flash deal/sale etc.

Text sliders for showcasing your content.

Image sliders for the course materials and testimonials.

Instructors section highlighting their skills

A clean FAQ section

A contact us page

Included extra pages: course details, terms conditions, privacy policy.
Ebooks are a great resource to sell your knowledge, I personally prefer buying ebooks over reading it online because I can have it saved offline and read whenever I want to. You have your ebook, but you also want to sell it online and you need a great landing page for this. Kobe HTML template has all the features you need if you are planning to sell your ebooks online.
Kobe is an ebook HTML Bootstrap website template created for ebooks, white papers, case studies, reports to present the content and convince the visitor to sign up for download.
It has a modern and clean design with the blue colour scheme and abstract tech-inspired backgrounds which help deliver your message and convinces visitors to download your ebook. It is built with Bootstrap, HTML/CSS and JS it features details lightbox for additional information, card slider for testimonials, dropdown navigation.
Kobe offers
A hero section with email capturing form.

Details lightboxes.

A detailed author section highlighting his/her experience, skillset and talents.

A testimonials slider

Card sliders.

Dropdowns in Navbar.

Included extra pages: privacy policy, terms and conditions, contact details, ebook details.
---
Coming Soon Templates
Como HTML template has over 6 different layouts for your coming soon pages, all these 6 variants have been beautifully designed to match your company and the design, making this a very good choice for your upcoming business/venture.
Como is a coming soon HTML Bootstrap website template dedicated to announcing the imminent launch of new projects like websites, products, services, online courses and more. It has multiple versions with both light and dark design styles and also includes two versions with a beautiful particles effect in the background. Built with Bootstrap, HTML/CSS and JS it features particles background and countdown timer.
Bono has 13 different layouts for your Coming soon page requiremtns, it has covered almost all of the variants, light, dark modes, event pages, gradient backgrounds, countdown timers, signup pages, newsletter subscription fotms. Bono features multiple design layouts with different color schemes and types of backgrounds from particles to video and image sliding backgrounds in order to suit any type of use-case scenario.
Bono is a coming soon HTML Bootstrap website template designed to help you create great coming soon pages with countdown timers, image galleries for upcoming websites, apps and more.
Built with.
Bootstrap, HTML/CSS, JS, Google Fonts, Font Awesome
---
Get all Inovatik HTML templates in the Big Bundle package. Use them with a simple license for any type and any number of projects. All future templates and updates are included