CSS box-shadow is a fabulous CSS property. It adds shadow effects around an HTML element. Adding multiple effects separated by commas is my favorite feature of this box-shadow property.
Innumerable shadows are possible by combining the available values of the box-shadow property. Color, blur, spread radius, and other properties give the interface a magical look.
100 CSS Box Shadow Presets
Here are 100 CSS box-shadow presets for the quick start of designer imagination. These presets range from basics to modern and conventional to popular design systems.
Box Shadow Generator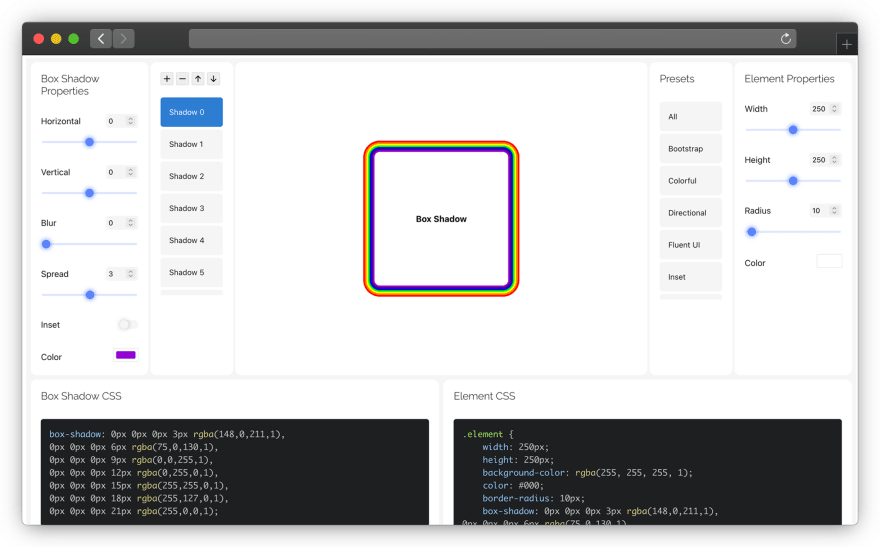 Each CSS box-shadow example is editable via an easy-to-use CSS box-shadow generator. Following is a quick guide for creating your masterpiece box-shadow quickly.
Quick Guide
Choose an example from 100 CSS box-shadow presets.
If you like the preset, copy it, and you are good to go.
Click on the Edit button to launch the box-shadow generator.
You can add or remove as many shadows as you like.
Adjust the box-shadow properties to match your taste.
Copy the box-shadow snippet to use in your project.
Support The Project
I hope you will like this. Please share it with your buddies to support the project.