Introduction
The profession of a programmer, like many other professions related to IT, implies constant training. For even if you are a good specialist in your field, this does not mean that you have comprehended all the peaks of your profession. We always have something to learn. You can't just learn certain rules and formulas in order to become a professional.
You can study in different ways: read books and articles, find a mentor who will help you in mastering the knowledge of your profession, and so on.
But as a rule, in most cases we turn to YouTube. The fact is that it is much easier for us to perceive information through video, when there is a person who will explain everything to us simply and easily, how some function or technology works, what types of algorithms there are, and so on. Unfortunately, sometimes it is difficult for us to perceive information through simple text.
But fortunately we have YouTube. What would we do without him? He is our savior.
And that is why today I decided to give a list of channels that could at least help you become a better specialist for a little bit. (But this is not a fact)
Here you can find excellent tutorials on layout, on the programming languages JS and PHP, as well as on the React and Vue frameworks.
The channel has a number of interesting videos like how to make CSS animation with physics simulation or how to work with legacy code, as well as many interesting videos on CSS animations and React lessons. There are also videos where conversations with other developers are conducted. The only disadvantage is that the videos rarely come out, but they will not clog your tape. 😁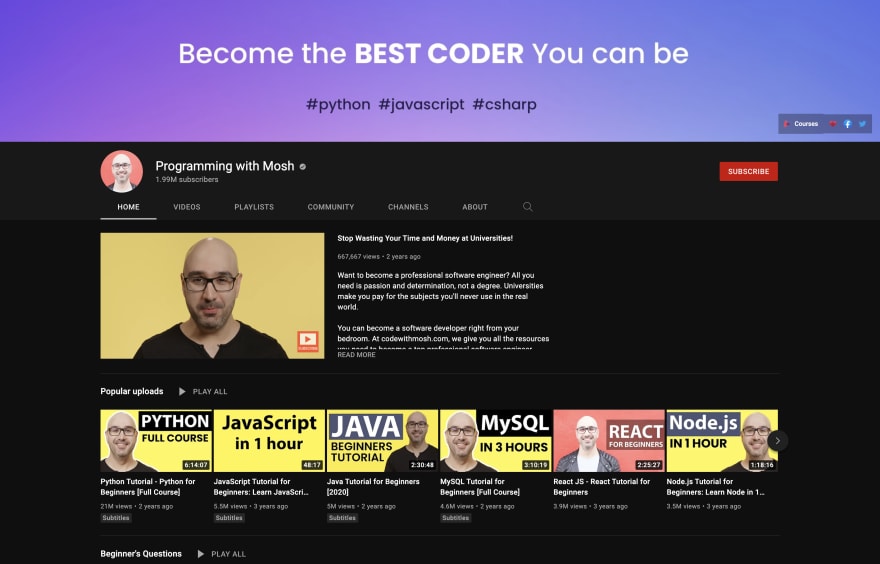 Courses on React, React Native, Redux. Videos about Java, Python, MySQL and many other interesting things.
An amazing channel where you can learn various CSS tricks, how to create beautiful animations, how to create SVG, which you can then animate, and so on. A great channel with a very interesting feed.
A young channel where a guy who studies at a university and interns at a big tech company talks about general lifestyle, coding, academics/career paths, tech industry. There are no courses on the channel, but its videos are interesting to watch.
Channel Description
I'm a software developer who makes videos about React, React Native, GraphQL, Typescript, Node.js, PostgreSQL, Python, and all things coding.
A great channel that contains videos that, from a theoretical point of view, tell you how various programming languages work. There are also a number of videos on the topic of layout and animation creation. There are many great short and informative videos like "Tailwind in 100 Seconds" or "PostCSS in 100 Seconds". I think many people may like this channel.
On the channel you can find a lot of good videos on working with libraries such as Three.js and Pixi.js. There are also videos on Canvas and Webgl. Suitable for those who study 3D on the Web.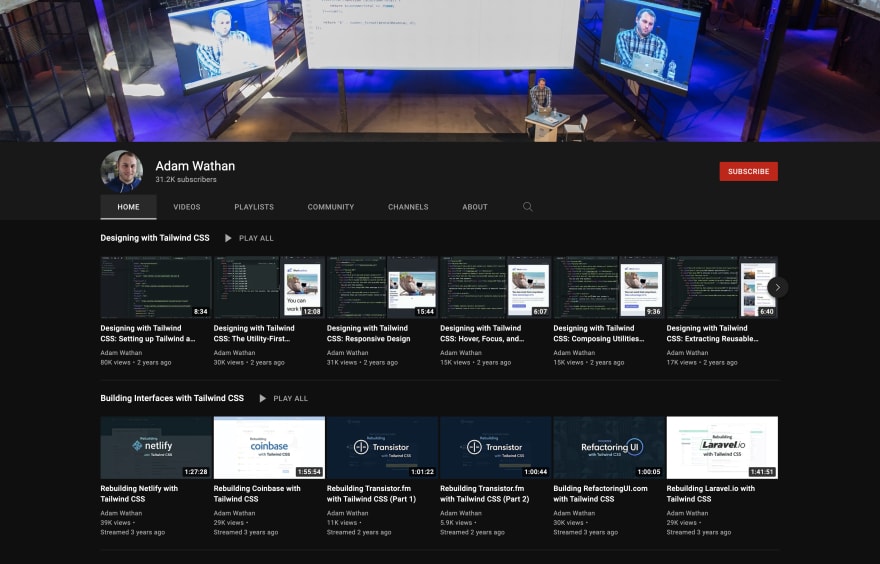 A channel where there are a huge number of videos on the Tailwind Css framework.
Channel Description
1000+ free video tutorials created, recorded, edited, published and maintained by Scott Tolinski.
Channel Description
Design Medium is all about UI Design and Front-end Development. Here you'll find videos on Adobe XD, Web Design using HTML, CSS and JavaScript and Mobile App Design using React Native.
The channel is dedicated to creating a user interface using Adobe Xd and Invision Studio. There is also a video on how to implement these interfaces and animations using React.js and Node.js.
Channel Description
Welcome to my channel "CodingNepal". Here I upload videos related to HTML, CSS, JavaScript, and PHP along with creative coding stuff such as CSS Animations & Effects.

I always provide the source codes of each video on my website - codingnepalweb.com for free. I believe my videos or codes help to inspire web designers & developers and also help to improve their skills.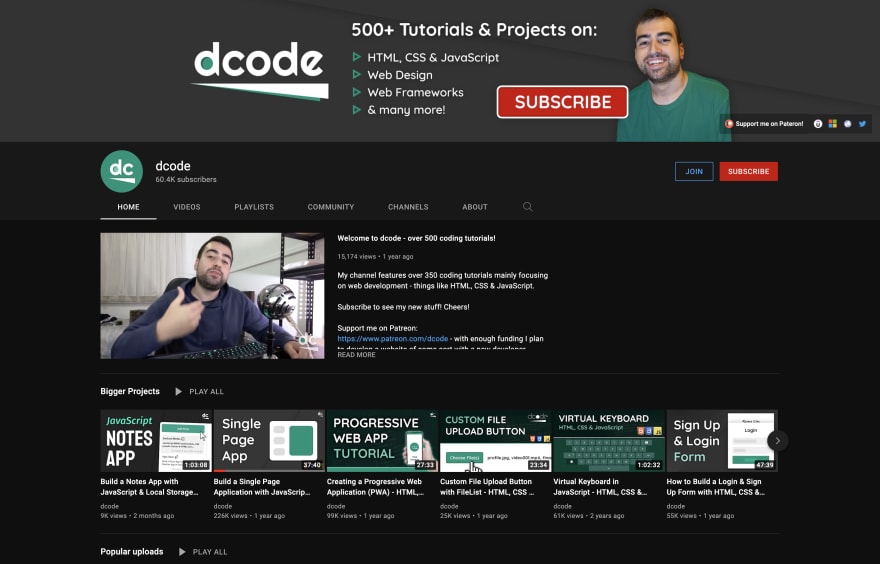 Channel Description
On my channel you can find HTML, CSS & JavaScript tutorials, PHP tutorials, Node.js tutorials and Rust tutorials, as well as many other topics covered in web development. I also enjoy building JavaScript projects every now and then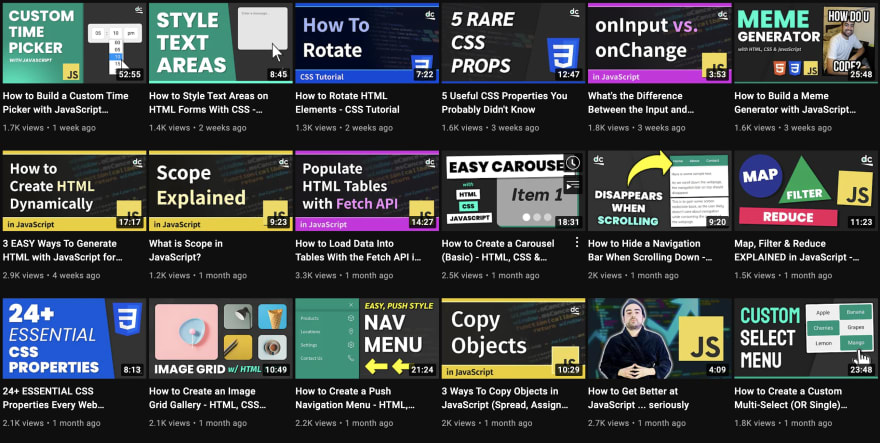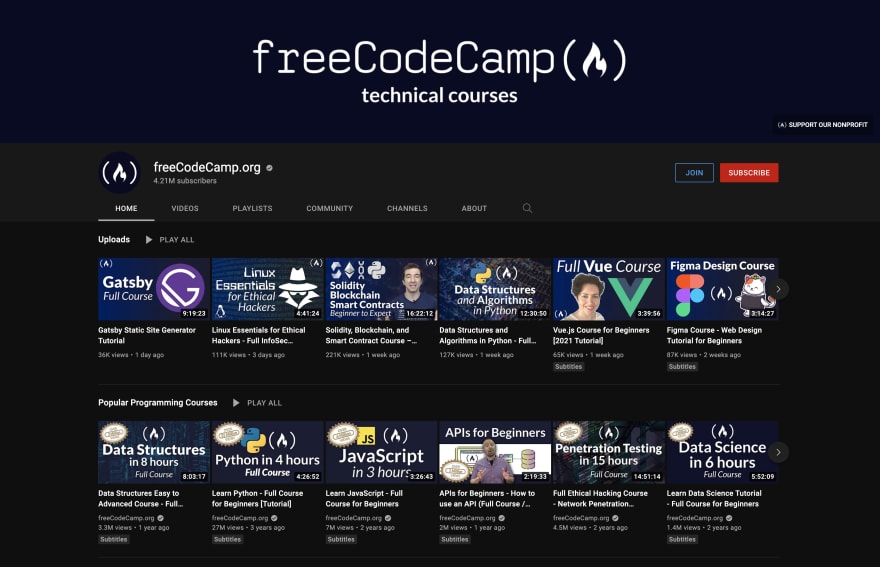 The channel is dedicated to everything related to programming. Learning various APIs, React, JS, GIT, browsers, and much more. A very good channel with a lot of useful information.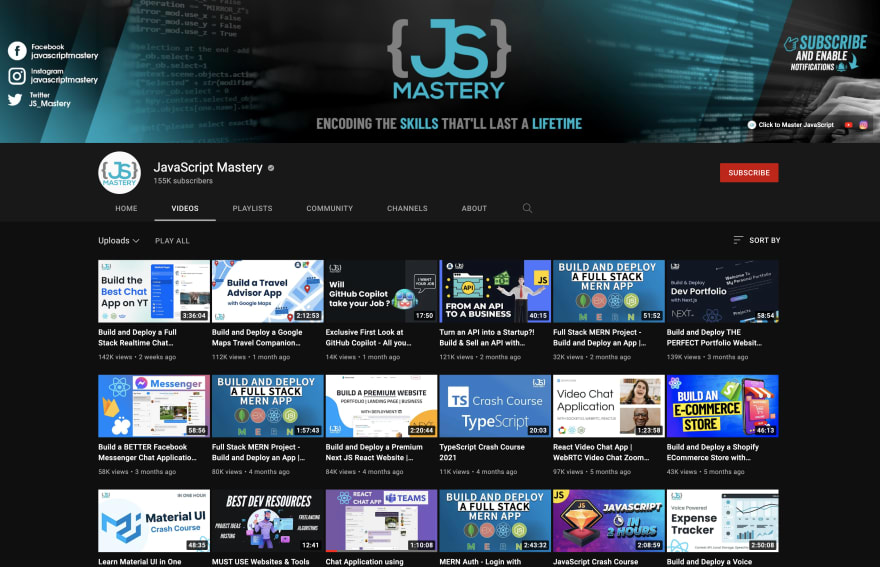 A channel with videos on how to create various chats, messengers, travel apps and much more using React.js.
On this channel you can find a lot of videos on how to create a slider, animation when scrolling, adaptive website design and also a lot of different elements using React.js
A wonderful channel dedicated to the deep study of CSS. Required for any Frontend developer.
Channel Description
Web Dev Simplified is all about teaching web development skills and techniques in an efficient and practical manner. If you are just getting started in web development Web Dev Simplified has all the tools you need to learn the newest and most popular technologies to convert you from a no stack to full stack developer. Web Dev Simplified also deep dives into advanced topics using the latest best practices for you seasoned web developers.
All content on the channel is strictly only about React.js. Here you will learn how to create interfaces and animations. Also on the channel there are many interesting conversational videos on the topic React.js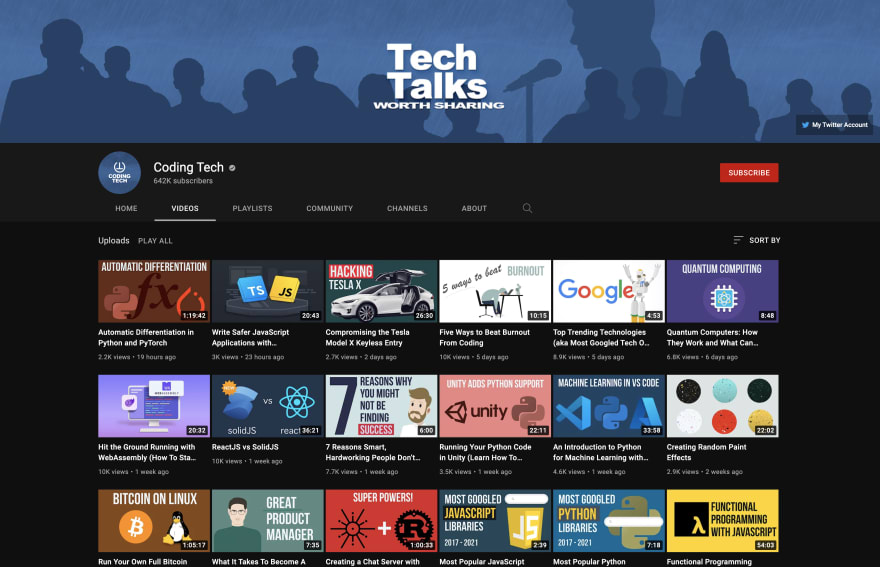 The site is dedicated to It technologies. Here you will find videos from the usual videos on CSS, JS, Python and Django to blockchain and microservices. A very informative channel.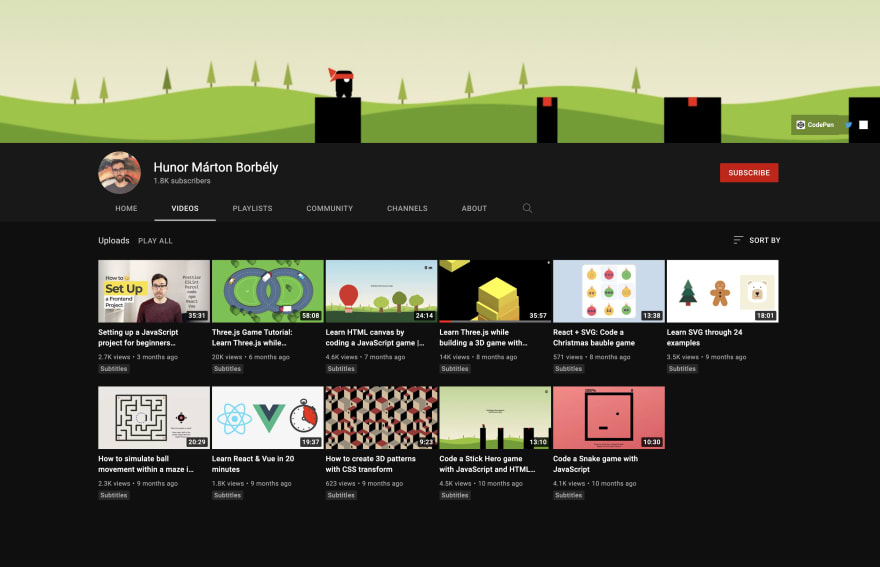 An interesting channel about the development of games in the browser, as well as the creation of SVG and 3D elements.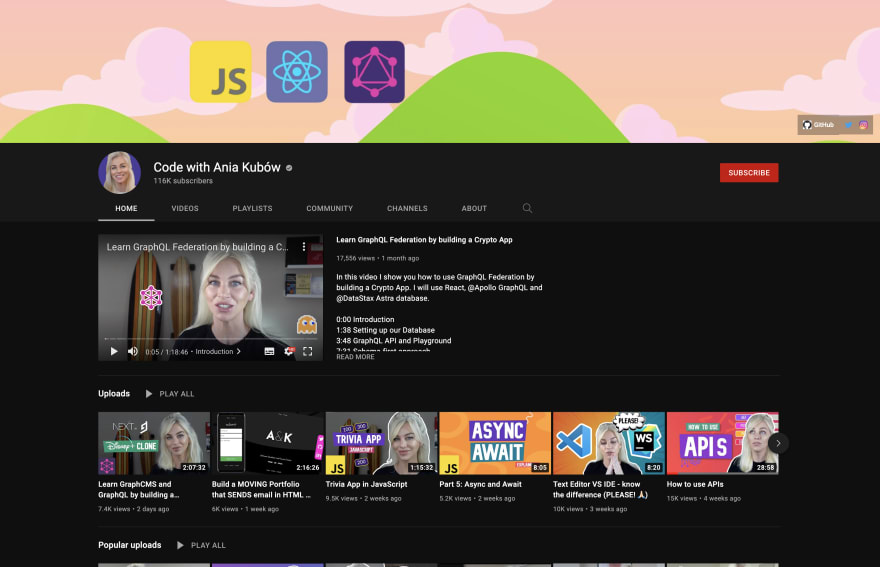 Channel about JavaScript, React, React-Native, Next.js, Node.js, Express, GraphQL, serverless functions, working with databases and much more!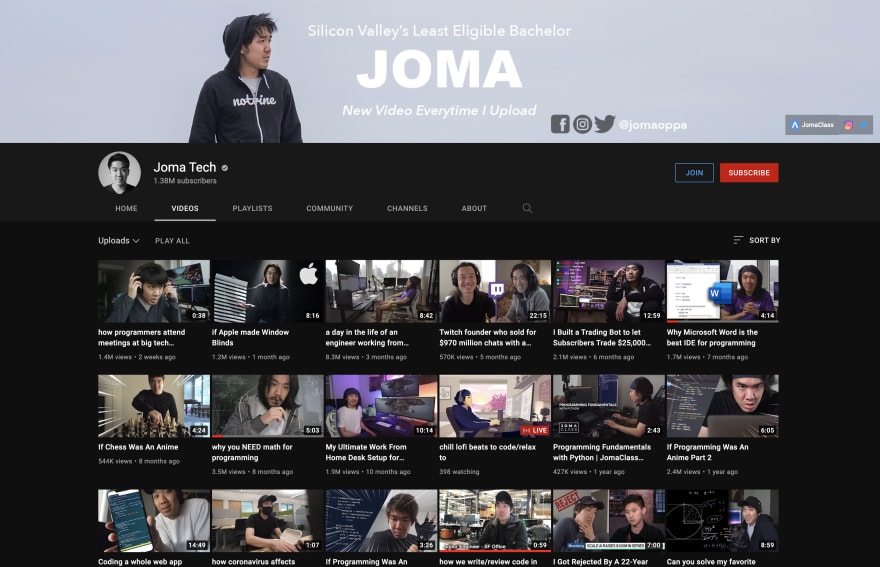 The author of the channel talks about his life in Silicon Valley and about working at big tech companies. Very interesting.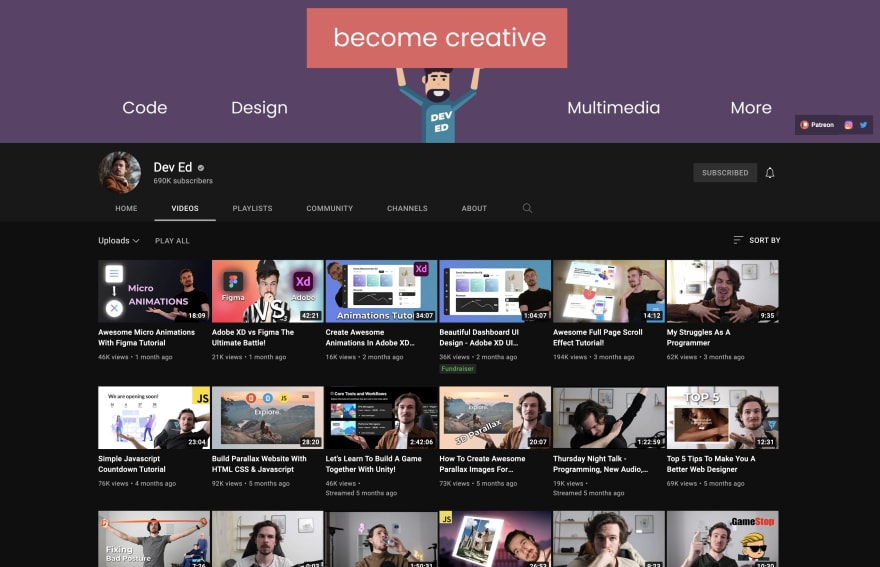 On this channel, you can learn how to create regular animation, and SVG animation using JS or pure CSS, how to create beautiful website templates and folded web elements. There are courses on JS and React. There are also training videos about Figma and Adobe XD, where you can learn not only how to create static layouts, but also learn how to create animations. Well, I just want to say that this is a very interesting channel where the author interestingly submits training material.
Tips from the comments
A small channel with videos about PHP, Wordpress, JS and CSS.
The End
Thank you for taking the time to my post. I want to warn you right away that in this collection I have made exactly those channels that I like. I am well aware that you may not like some of them, but believe me, they at least deserve attention. Thank you again and you can also offer your options for good YouTube channels in the comments.
I can advise you to subscribe to my Twitter, I also post my works there.