I see countless developers investing weeks into building landing pages from scratch that end up looking unprofessional, when they could've instead used a template, done it in 1/10th the time, and had a better result in the end.
Ready-made landing page templates can be a good tradeoff to make because you get two massive benefits in return:
You can have an amazing professional-quality design that inspires trust in your visitors.
It's way faster to do, so you have more free time to work on other important parts of your business.
So, If you're tired of presenting your products with a monotonous and bad-designed landing page, I have compiled this list of the best 20 Tailwind CSS landing page templates—resources with a wide variety of uses and covering several common needs. These templates are high-quality, well-coded, and easy-to-use. I hope you find one or two (or twenty) you can put to good use, today.
20 Best Tailwind Landing Page Templates:
---
1. Simple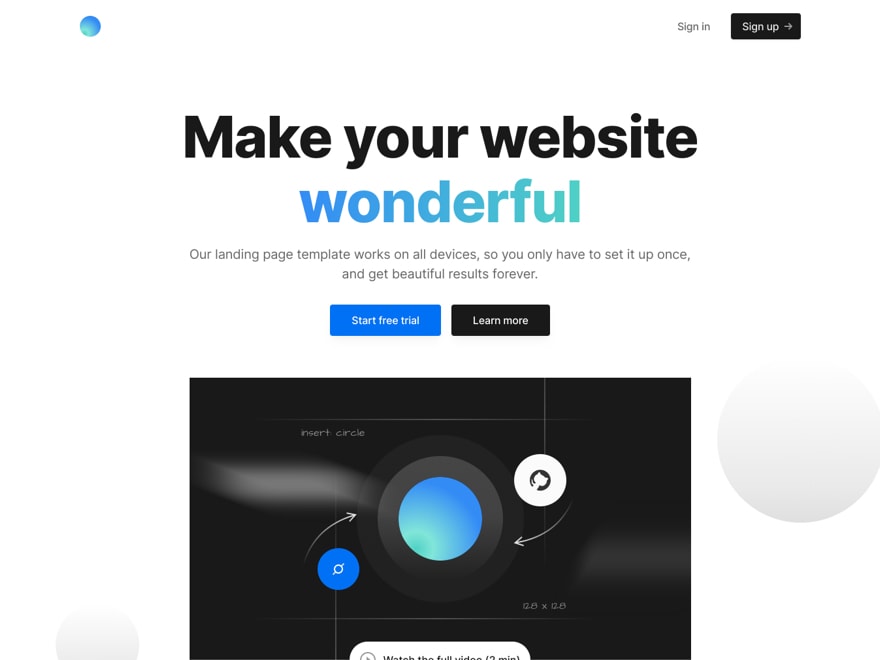 Simple Light is a free landing page template built on top of TailwindCSS and fully coded in React.js. This template is designed to provide all the basic components a developer/founder need to create a landing page for SaaS products, online services, digital agencies, and more.
Free template
One-page website template
Fresh and modern design
---
2. UptimeMate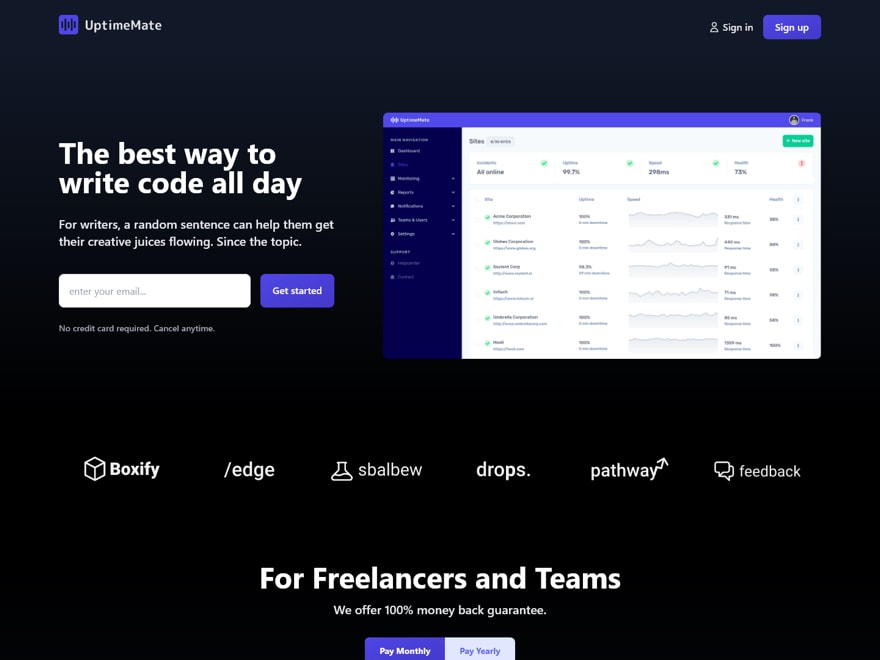 A beautifully-designed SaaS landing page template that comes in both dark and light versions. The landing page is made with Tailwind CSS and fully optimized for mobile, tablet and desktop usage. The icons included in these designs are from the awesome heroicons library.
Dark and light layouts
Build with Tailwind CSS version 2.x
Use in personal and commercial projects
---
3. Tailwind UI (Landing Pages)

Three super slick one-page landing pages templates designed and coded by creators of Tailwind CSS. Tailwind UI doesn't only include landing pages, but it's an ongoing collection of professionally designed, pre-built, fully responsive HTML snippets you can drop into your Tailwind projects.
Built by creators of Tailwind CSS
Ongoing updates and updates
Background image hero with alternating features
---
4. Appy

Appy is the ultimate mobile-based landing page template built on top of the latest Tailwind CSS 2.0 framework. Along with the toggle to switch between dark and white layouts it introduces eight pre-made pages that will help you to kickstart your project's development with ease.
Easily switch between layouts
Custom-made illustrations
Scroll reveal animations
---
5. Open PRO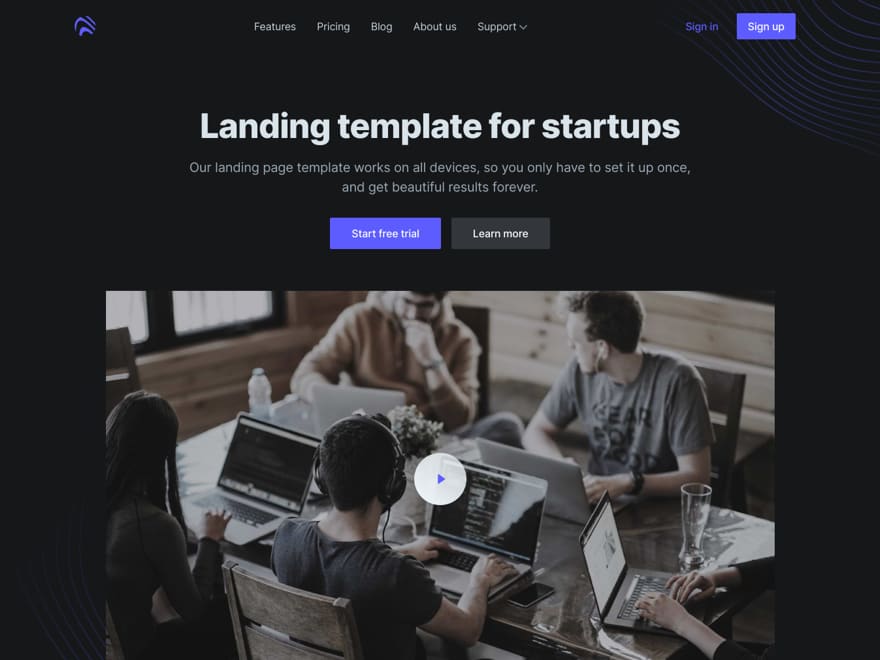 Open PRO is a superb landing page template with a fully dark design and a streamlined user interface. Thanks to the presence of multiple pages and components, this product is the perfect answer for anyone looking to build SaaS apps, corporate websites, and more.
Available in HTML, React, and Vue
10+ pages and tons of pre-built sections
Ongoing and lifetime updates
---
6. Prodify

Prodify is a modern and sleek product that focuses on growing trends of beautiful gradients, clean spacing, and large typography. This template can be used by anyone to market a product and/or service, and it features a four very rich pages, such us the homepage, about us, pricing, and knowledge base.
Cross-browser tested
Meets WCAG accessibility guidelines
Future updates available via the changelog
---
7. Easybank

Made as part of a Frontend Mentor challenge Easybank is a totally scalable product designed with FinTech applications in mind. Created as a product that stands out, this template can easily adapt to different viewports and can be flexible for multiple uses thanks to the high-quality code.
Absolute positioning
Custom illustrations and mobile mockups
Eye-catching gradients and a bright palette
---
8. Modern SAAS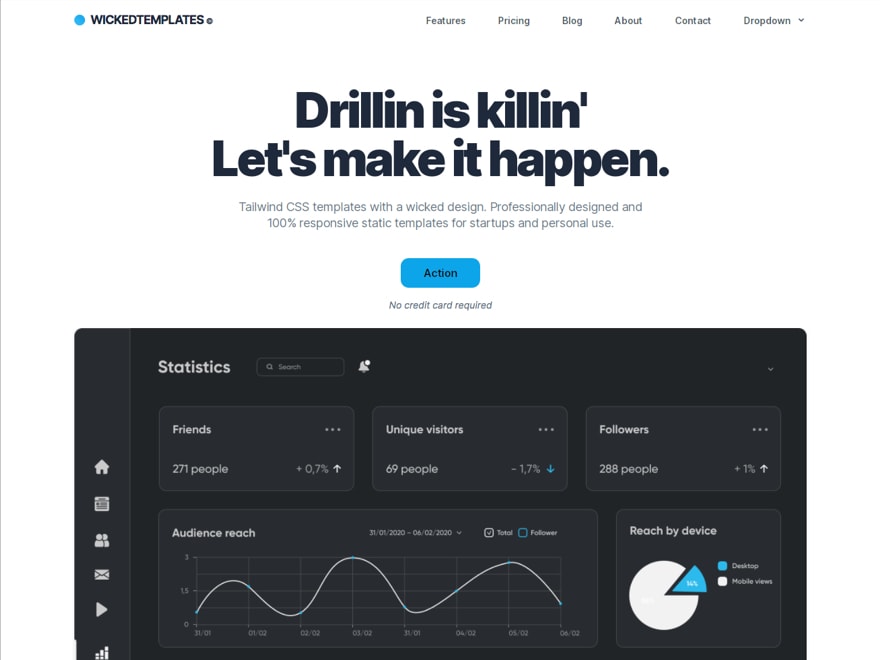 Modern SaaS is a template created using Tailwind CSS V2 and Alpine.js. This product Includes 5 responsive pages (such as blog, contact, about, etc.), pricing tabs, newsletter forms, feature tabs, dark mode support, sleek product illustrations, and much more.
Ideal for SaaS, services, and agencies
Official Tailwind CSS palette
Fully documented template
---
9. SaasFolio

SaasFolio is a product-focused landing page template for SaaS services and startups. It differences itself from other similar alternatives by focusing on professional sales copy, bright colors, and page hierarchy. All these features make this template ideal for user conversions.
95+ Google PageSpeed
Handmade cartoon-style illustrations
Fully documented template
---
10. Treact

Treact is a collection of lightweight and simple-to-setup UI landing pages and components built using TailwindCSS. All components in this product are modular and fully responsive for a great mobile experience as well as big desktop screens, tablets, and all types of modern devices.
7 Landing Page Demos
Multiple inner pages and component blocks
Free plan for personal usage
---
11. Landing Pages For Mobile Apps

LPFMA is a vibrant, clean, and powerful collection of mobile landing page templates built on top of Tailwind CSS. With its multiple ready-to-use layouts, it is the perfect alternative for anyone looking to promote your mobile-based apps, digital services or business projects.
5 unique one-page layouts
Cross Browser Optimization
Free google fonts
---
12. Monochrome

Go monochrome is a black & white landing page for mobile-based apps or extensions. This product includes native App & Play Store buttons, features sections, FAQ lists, and artistic MIT license illustrations that you can include in your own project presentation.
Darkmode supported
Clean and tidy code
Fully responsive on every screen
---
13. Shine

Shine is a free startup and app landing page template specially designed for attractive Businesses, websites, and digital services. It's a free one-page product that comes with all essential sections and elements to launch several types of one-page sites with the mighty power of Tailwind.
Free and premium versions
Crafted for multiple uses and businesses
500+ free icons included
---
14. Screenshot

Screenshot is an open-sourced and bright landing page template with space for section browser screenshots and custom mockup illustrations. This template is pretty straightforward to set up thanks to Tailwind CSS and provides a fresh starting point page in a matter of minutes.
Released under the MIT license
Documented via Tailwind Toolbox
Real size mockup screenshots
---
15. Landing

Landing is a developer-friendly landing page template based on the latest coding practices a fully designed with a product-centric approach. With its cutting-edge frontend tool, you can customize the designs from the foundation and get a fresh template to start different new businesses.
Quality checked design
Set up guide included
Expandable stater product
---
16. App Landing Page

Are you looking for a kick-ass Tailwind starter template for your new awesome web app? Look no further. This product comes with a pure light layout, mockup illustrations (for desktop, tablet, and mobile), App Store and Google Play buttons, and a set of eye-catching bubble shapes that you can easily change in colour and size.
Main hero message
Available with the latest release
Twitter and Facebook social icons
---
17. Rainblur

Easily create a gorgeous landing page that collects inbox subscribers in no time with this dark, and colourful template. Thanks to the hero gradients and the creation of dynamic gradient-based texts you will no longer have the problem of people refusing to subscribe to your next release.
Built-in dynamic palette
Stunning transitions and transformations
Hero for mockup presentations
---
18. Basic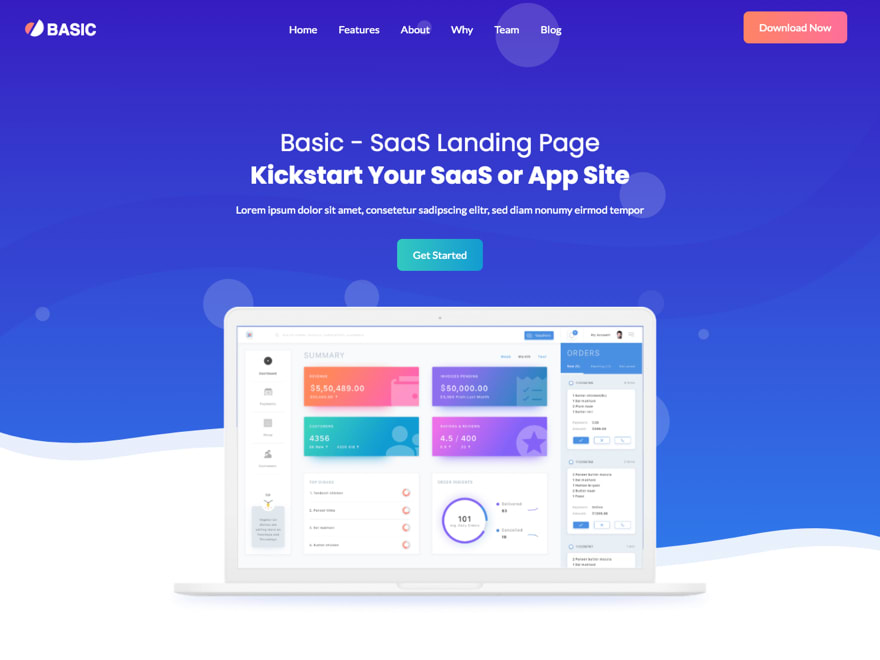 Basic is the template of your choice if you want to draw user's attention thanks to the amazing hand-drawn cartoon illustrations. All sections and features are coded in Basic following the latest practice of Tailwind CSS, so that it is easy to set up and customise also for non-coders.
Directly support from the author
One-time payment, no renewals
Full package with the same license
---
19. TailwindCSS Page Creator

Tails is the latest drag'n drop landing page creator built exclusively for TailwindCSS. This powerful tool contains over 150+ pre-coded blocks that you can mix and match to craft the perfect landing page for your next business project, web/mobile application, online service, and much more.
Easily launch the app from the browser
Fully optimised for mobile
Created by designers and developers
---
20. Tailblocks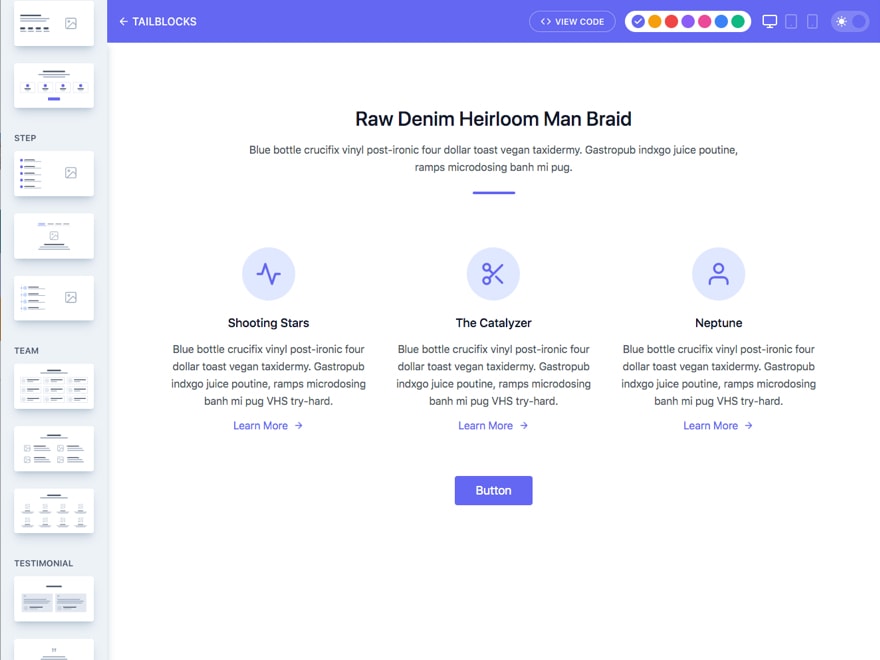 Very similar to Tails, Tailblocks is a powerful landing page builder built on top of ready-to-use Tailwind CSS templates and blocks. This project provides a range of well-organised sections and features that you can easily integrate to create a brand new website in a matter of minutes.
Palette variations and dark mode support
Copy/paste sections into your project
Released under an open-source license
---
Conclusion
Those were the top 20 templates for creating stunning landing pages using Tailwind CSS.
Now, let me turn this back to you: which ones did I miss? Is there any Tailwind-based template you used that I have not showcased here? Please let me know by commenting below.