I recently saw a tweet from fellow Kentico MVP Brian McKeiver about creating a .gitignore file using the .NET SDK. His question being why he'd not known it was a thing before now. Well, neither had I, and I wanted to take a look at it as it sounds like quite a time/life saver.
Brian McKeiver

TIL: dotnet new gitignore generates a git ignore file that has just about every ignore you could want ready to go as a template. How did I not know this before!

#dotnetcore #alwayslearning

14:30 PM - 15 Sep 2020
So, when did this become a thing? Looking at the .NET Core SDK documentation, we can see that back in September of 2019, Microsoft release the 3.0 SDK. This obviously had quite alot of additions, and some of those were some new templates for the dotnet new command.
The list of additional features in 3.0 is as follows:
WPF Application
WPF Class library
WPF Custom Control Library
WPF User Control Library
Windows Forms (WinForms) Application
Windows Forms (WinForms) Class library
Worker Service
Razor Component
Blazor Server App
ASP.NET Core gRPC Service
dotnet gitignore file
Dotnet local tool manifest file
Protocol Buffer File
Obviously the one that I care about here is dotnet gitignore file. It's a realy easy command to use, but it can save you from some of the basic mistakes when creating an new project.
Running the command just consists of the following:

There are no other options here, what you're going to get is a fairly comprehensive .gitignore (I've listed it out at the end of this article). In terminal, you'll see something like this: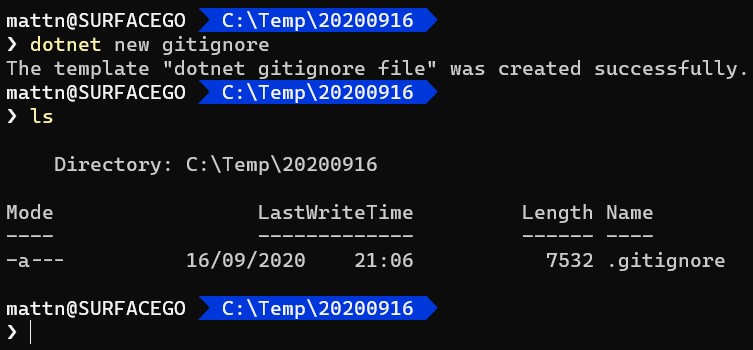 Typically you'll have a .gitignore file that you might copy and paste from project to project, or you might build it up as you go along. The later of those two option is always more prone to error, so being able to create this as a starter is certainly going to be helpful for that next new project!
The generated .gitignore file
## Ignore Visual Studio temporary files, build results, and
## files generated by popular Visual Studio add-ons.
##
## Get latest from https://github.com/github/gitignore/blob/master/VisualStudio.gitignore

# User-specific files
*.rsuser
*.suo
*.user
*.userosscache
*.sln.docstates

# User-specific files (MonoDevelop/Xamarin Studio)
*.userprefs

# Mono auto generated files
mono_crash.*

# Build results
[Dd]ebug/
[Dd]ebugPublic/
[Rr]elease/
[Rr]eleases/
x64/
x86/
[Aa][Rr][Mm]/
[Aa][Rr][Mm]64/
bld/
[Bb]in/
[Oo]bj/
[Ll]og/

# Visual Studio 2015/2017 cache/options directory
.vs/
# Uncomment if you have tasks that create the project's static files in wwwroot
#wwwroot/

# Visual Studio 2017 auto generated files
Generated\ Files/

# MSTest test Results
[Tt]est[Rr]esult*/
[Bb]uild[Ll]og.*

# NUNIT
*.VisualState.xml
TestResult.xml

# Build Results of an ATL Project
[Dd]ebugPS/
[Rr]eleasePS/
dlldata.c

# Benchmark Results
BenchmarkDotNet.Artifacts/

# .NET Core
project.lock.json
project.fragment.lock.json
artifacts/

# StyleCop
StyleCopReport.xml

# Files built by Visual Studio
*_i.c
*_p.c
*_h.h
*.ilk
*.meta
*.obj
*.iobj
*.pch
*.pdb
*.ipdb
*.pgc
*.pgd
*.rsp
*.sbr
*.tlb
*.tli
*.tlh
*.tmp
*.tmp_proj
*_wpftmp.csproj
*.log
*.vspscc
*.vssscc
.builds
*.pidb
*.svclog
*.scc

# Chutzpah Test files
_Chutzpah*

# Visual C++ cache files
ipch/
*.aps
*.ncb
*.opendb
*.opensdf
*.sdf
*.cachefile
*.VC.db
*.VC.VC.opendb

# Visual Studio profiler
*.psess
*.vsp
*.vspx
*.sap

# Visual Studio Trace Files
*.e2e

# TFS 2012 Local Workspace
$tf/

# Guidance Automation Toolkit
*.gpState

# ReSharper is a .NET coding add-in
_ReSharper*/
*.[Rr]e[Ss]harper
*.DotSettings.user

# JustCode is a .NET coding add-in
.JustCode

# TeamCity is a build add-in
_TeamCity*

# DotCover is a Code Coverage Tool
*.dotCover

# AxoCover is a Code Coverage Tool
.axoCover/*
!.axoCover/settings.json

# Visual Studio code coverage results
*.coverage
*.coveragexml

# NCrunch
_NCrunch_*
.*crunch*.local.xml
nCrunchTemp_*

# MightyMoose
*.mm.*
AutoTest.Net/

# Web workbench (sass)
.sass-cache/

# Installshield output folder
[Ee]xpress/

# DocProject is a documentation generator add-in
DocProject/buildhelp/
DocProject/Help/*.HxT
DocProject/Help/*.HxC
DocProject/Help/*.hhc
DocProject/Help/*.hhk
DocProject/Help/*.hhp
DocProject/Help/Html2
DocProject/Help/html

# Click-Once directory
publish/

# Publish Web Output
*.[Pp]ublish.xml
*.azurePubxml
# Note: Comment the next line if you want to checkin your web deploy settings,
# but database connection strings (with potential passwords) will be unencrypted
*.pubxml
*.publishproj

# Microsoft Azure Web App publish settings. Comment the next line if you want to
# checkin your Azure Web App publish settings, but sensitive information contained
# in these scripts will be unencrypted
PublishScripts/

# NuGet Packages
*.nupkg
# The packages folder can be ignored because of Package Restore
**/[Pp]ackages/*
# except build/, which is used as an MSBuild target.
!**/[Pp]ackages/build/
# Uncomment if necessary however generally it will be regenerated when needed
#!**/[Pp]ackages/repositories.config
# NuGet v3's project.json files produces more ignorable files
*.nuget.props
*.nuget.targets

# Microsoft Azure Build Output
csx/
*.build.csdef

# Microsoft Azure Emulator
ecf/
rcf/

# Windows Store app package directories and files
AppPackages/
BundleArtifacts/
Package.StoreAssociation.xml
_pkginfo.txt
*.appx
*.appxbundle
*.appxupload

# Visual Studio cache files
# files ending in .cache can be ignored
*.[Cc]ache
# but keep track of directories ending in .cache
!?*.[Cc]ache/

# Others
ClientBin/
~$*
*~
*.dbmdl
*.dbproj.schemaview
*.jfm
*.pfx
*.publishsettings
orleans.codegen.cs

# Including strong name files can present a security risk
# (https://github.com/github/gitignore/pull/2483#issue-259490424)
#*.snk

# Since there are multiple workflows, uncomment next line to ignore bower_components
# (https://github.com/github/gitignore/pull/1529#issuecomment-104372622)
#bower_components/

# RIA/Silverlight projects
Generated_Code/

# Backup & report files from converting an old project file
# to a newer Visual Studio version. Backup files are not needed,
# because we have git ;-)
_UpgradeReport_Files/
Backup*/
UpgradeLog*.XML
UpgradeLog*.htm
ServiceFabricBackup/
*.rptproj.bak

# SQL Server files
*.mdf
*.ldf
*.ndf

# Business Intelligence projects
*.rdl.data
*.bim.layout
*.bim_*.settings
*.rptproj.rsuser
*- Backup*.rdl

# Microsoft Fakes
FakesAssemblies/

# GhostDoc plugin setting file
*.GhostDoc.xml

# Node.js Tools for Visual Studio
.ntvs_analysis.dat
node_modules/

# Visual Studio 6 build log
*.plg

# Visual Studio 6 workspace options file
*.opt

# Visual Studio 6 auto-generated workspace file (contains which files were open etc.)
*.vbw

# Visual Studio LightSwitch build output
**/*.HTMLClient/GeneratedArtifacts
**/*.DesktopClient/GeneratedArtifacts
**/*.DesktopClient/ModelManifest.xml
**/*.Server/GeneratedArtifacts
**/*.Server/ModelManifest.xml
_Pvt_Extensions

# Paket dependency manager
.paket/paket.exe
paket-files/

# FAKE - F# Make
.fake/

# CodeRush personal settings
.cr/personal

# Python Tools for Visual Studio (PTVS)
__pycache__/
*.pyc

# Cake - Uncomment if you are using it
# tools/**
# !tools/packages.config

# Tabs Studio
*.tss

# Telerik's JustMock configuration file
*.jmconfig

# BizTalk build output
*.btp.cs
*.btm.cs
*.odx.cs
*.xsd.cs

# OpenCover UI analysis results
OpenCover/

# Azure Stream Analytics local run output
ASALocalRun/

# MSBuild Binary and Structured Log
*.binlog

# NVidia Nsight GPU debugger configuration file
*.nvuser

# MFractors (Xamarin productivity tool) working folder
.mfractor/

# Local History for Visual Studio
.localhistory/

# BeatPulse healthcheck temp database
healthchecksdb

# Backup folder for Package Reference Convert tool in Visual Studio 2017
MigrationBackup/

##
## Visual studio for Mac
##


# globs
Makefile.in
*.userprefs
*.usertasks
config.make
config.status
aclocal.m4
install-sh
autom4te.cache/
*.tar.gz
tarballs/
test-results/

# Mac bundle stuff
*.dmg
*.app

# content below from: https://github.com/github/gitignore/blob/master/Global/macOS.gitignore
# General
.DS_Store
.AppleDouble
.LSOverride

# Icon must end with two \r
Icon


# Thumbnails
._*

# Files that might appear in the root of a volume
.DocumentRevisions-V100
.fseventsd
.Spotlight-V100
.TemporaryItems
.Trashes
.VolumeIcon.icns
.com.apple.timemachine.donotpresent

# Directories potentially created on remote AFP share
.AppleDB
.AppleDesktop
Network Trash Folder
Temporary Items
.apdisk

# content below from: https://github.com/github/gitignore/blob/master/Global/Windows.gitignore
# Windows thumbnail cache files
Thumbs.db
ehthumbs.db
ehthumbs_vista.db

# Dump file
*.stackdump

# Folder config file
[Dd]esktop.ini

# Recycle Bin used on file shares
$RECYCLE.BIN/

# Windows Installer files
*.cab
*.msi
*.msix
*.msm
*.msp

# Windows shortcuts
*.lnk

# JetBrains Rider
.idea/
*.sln.iml

##
## Visual Studio Code
##
.vscode/*
!.vscode/settings.json
!.vscode/tasks.json
!.vscode/launch.json
!.vscode/extensions.json


Posted on by:
Senior Technical Architect at @Ridgeway, @KenticoKontent MVP, & co-founder of .NET Oxford. I'm passionate about learning more .NET Core and enjoying getting to know JAMStack.