It is really our sort of secret plan, to get Bitcoin to the next billion people!
Tyler Evans, co-founder & CTO of BTC Inc.
The mission at hand is daunting, if not impossible. But those who have met Tyler Evans know he wouldn't flinch at such a challenge.
Tyler is the co-founder and CTO of BTC Inc - the media group behind Bitcoin Magazine, providing news and commentary on Bitcoin and blockchain technology since 2012 to millions of readers across the globe. With a deep background in the technology and an enthusiastic community, BTC Inc. was in the perfect position to build the next on-ramp for Bitcoin.
In 2020, he and his team at BTC Inc. decided to launch Carrot, a rewards platform where users can earn bitcoin simply by supporting the brands and creators they love. Creators of all sorts (writers, podcasters, open-source collectives...) can publish challenges to be carried out by their audiences and offer bitcoin for their completion.
For its public release, Carrot chose Forest Admin to build its admin panel. Here's why and how they did it.
Carrot needed serious internal tooling to launch its app 🚀
Carrot's alpha phase saw it distribute millions of sats* to more than 10,000 users, proving the demand for a micropayment rewards platform.
Launching its public release however, is a different matter. "We needed to stop interacting directly with the database and APIs and build the right set of internal tools for our team", said Tyler. This would prove critical for the Carrot team to provide responsive customer support at scale, mainly:
Reviewing the challenges and bounties sent by creators
Moderating user submissions to the challenges
Triggering bitcoin payouts for the winning submissions
Fortunately, Forest Admin was here to help.
The day-to-day operations on Forest Admin 🌲
Reviewing the bounties sent by creators
The first conversations we had with Carrot revolved around making the bounty creation process as streamlined as possible. For this to happen, external partners had to be granted access to Forest Admin to submit challenges with little help or no support.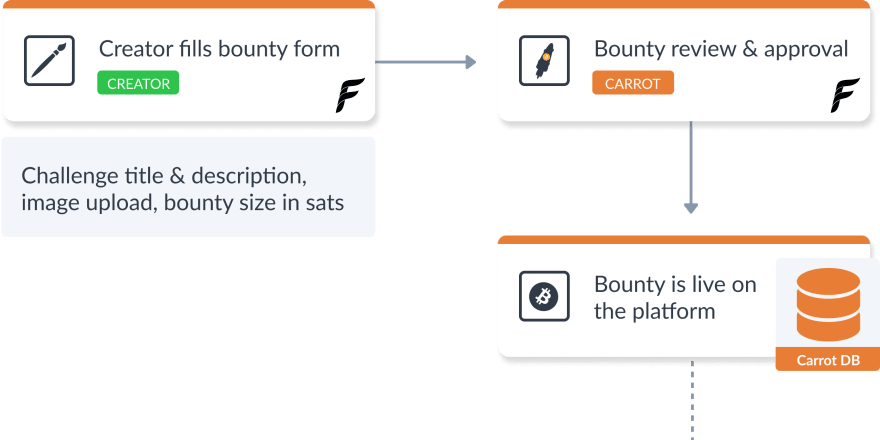 Leveraging Forest Admin's team-based permissions, Carrot restricted their access to a user-friendly form where it was possible to write a description, set the reward size and upload a few images.
Once submitted, the challenges were reviewed by the Carrot Operations team and the approved ones would become visible to all users on the platform.
Moderating users' submissions and triggering payouts
Users scrolling through the platform's available bounties were then able to pick their favorite and give it a try. One typical challenge was to complete a product testing survey where a user provides valuable feedback in return for a fraction of a bitcoin.
This type of submission goes through Typeform and its content is viewed in Forest Admin by the creators and Carrot team. Submissions are moderated to filter out the spammy and unhelpful ones.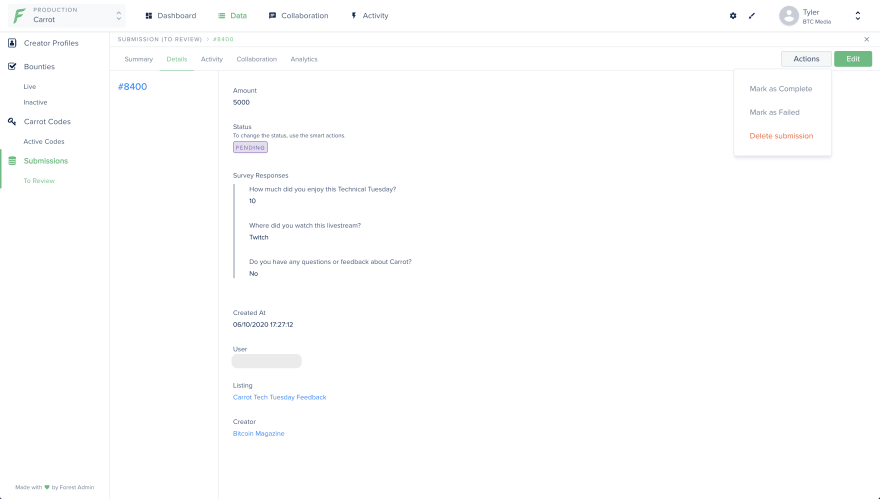 Once a submission is accepted, it's payday for the user! Carrot operators fire a call from Forest Admin to their APIs, sending the bitcoin micropayment over a Lightning Network channel.
Measuring the traction 📈
Aside from streamlining operations, measuring the platform's traction was essential to nailing the public release. For this, the Carrot team created dashboards using Forest Admin's no-code chart builder.
By displaying the total number of users, live bounties and tracking bitcoin payouts amongst other KPIs, they were able to quickly gain insights before committing to any important decision.
Delivered in record time
Forest Admin was a no-brainer for Carrot. It provided them with the right set of tools for a stress-free public release. Its ease of set up and customizability also allowed them to build all business workflows in record time; less than 14 days were needed to go live!
We were able to go so quickly with Forest Admin's help from an out-of-the-box solution to something fairly custom that did exactly what we wanted for Carrot without us having to change our workflows or adapt our technical stack to fit!
Tyler Evans, co-founder & CTO of BTC Inc.
All we can hope for Tyler and the Carrot team now is to run a successful launch and distribute more bitcoin through Lightning Network ⚡ than it has ever been done before!
Is your company operating in the Crypto & Blockchain space? Let's get in touch!
While we continue to power the most exciting startups in the FinTech industry, we're also excited to build our presence in the Crypto space and are on track to become one of its cornerstone tools.
We're eager to learn what use cases you have in mind and would love to take a chance at demonstrating what Forest can do for you.
💻 Book a 1:1 demo with our team here
Curious to know why other FinTechs chose Forest?
Glossary
sats or satoshis* = smallest bitcoin unit, equal to 100 millionth of a bitcoin