Here is a little context, My name is Godwill Barasa. I am a 23-year-old software developer based in Nairobi, Kenya. I live in Roysambu, TRM Drive. More often than not, when people during family gatherings, ask me what I do for a living.
Perhaps is the casual wear I am known for having after trying to go to my sister's wedding with a hoody ( don't worry it did not happen ). I am going to give everyone a picture of how a 23-year-old software developer based in Kenya undertakes his dailies.
5:00 AM
I wake up at 5:00 am. I jog to my local gym which is not far from my apartment. I do a 40-minute work out with my trainer (who is also my neighbor). I take a shower at around 5:50 am and make breakfast which is almost always an egg, Bread, and Tea.
6:30 AM
I put on some mood music usually something like 30 Seconds to Mars or a podcast. I browse my emails, check my LinkedIn for new connections. I do not use Facebook or Instagram because they make me anxious. I get why people employ social media managers. I am not inactive though, I try to post content to keep my brand on point.
7:00 AM
My meals are normally pre-packaged which is a pro-move since food prices near the office are pricy and tasteless. I pack them and then pre-heat them in the company kitchen. I take my Acer, Charger, and Notebook and throw it into my olive backpack. Earphones are also definite must-have essential.
7: 20 AM
I board a matatu bound to tao. It is almost always chilly and grey in the morning in Nairobi( however, it becomes hotter as the day continues). More mood music and a novel, right now am reading Harper Lees, To kill a mocking bird. Harper Lee believed to be one of the most influential authors to have ever existed, famously published only a single novel (up until its controversial sequel was published in 2015 just before her death). Lee's To Kill a Mockingbird was published in 1960 and became an immediate classic of literature.
8:00 AM
On a good day ill be at the CBD by 8:00 AM. I would then check-in at the Jomo Kenyatta NCBD Campus, my university. I am a student class representative for my Bachelor of Business Information & Technology class. Make sure I have my schedule mapped out. I also water the plants at the reception, sometimes. The receptionist is a middle-aged woman who is so motherly everyone calls her Nana. I call my classmates and send them the days schedule on Slack and WhatsApp.
8:30 AM
I'll arrive at the office. I make a coffee for a little more energy. I take this time to assess my to-do app. I check what has been done and what has not. I also send work emails and alerts on slack teams. This is when I reply to other work emails that require further discussions. These issues are the ones which rise in the next hour.
9:00 AM
We have a scrum meeting with designers, project managers, sometimes the CTO (but mostly not). It is designed for teams who break their work into goals that can be completed within timeboxed iterations, called sprints, no longer than one month, and most commonly two weeks. The Scrum Team tracks progress in 15-minute time-boxed daily meetings, called daily scrums. At the end of the sprint, the team holds a sprint review, to demonstrate the work done, and sprint retrospective to continuously improve. Some good ol' Software Engineering
9:30 AM
Problem-solving mostly( very little coding ) just trying to solve problems from a very high level of understanding. This is very important to me as it helps me treat my code as art. Very in touch with what is needed by the user or investor.
10:00 AM
Godwill Barasa Set-Up, My purple knight
Id stack working on the code. My set up is a dual-screened monitor. I also have a very slow purple Acer, Intel Celeron. However, being a Ubuntu Fan-boy this does not lag at all for writing Javascript code. About Javascript, the stack we use is React.js, GraphQL, Gatsby, Strapi, or WordPress Headerless CMS. popularly known as the Jamstack. The Jamstack is not about specific technologies. It's a new way of building websites and apps that delivers better performance, higher security, lower cost of scaling, and better developer experience.
Dev lives matter. Loose coupling and separation of controls allow for more targeted development and debugging, and the expanding selection of CMS options for site generators removes the need to maintain a separate stack for content and marketing.
I listen to Frank Ocean and finish what I had set out to do on that day as per the daily scrum.
1:00 pm LUNCH
Or gaming
2:00 2 HOUR CODING SESSION
Also A short meeting with Human Resource, she says I might be exhausted from school and work. She gives me a go-ahead to work from home on Friday.
I love working from home. Roysambu is treating me too nice, I pay 15,000KES (150 USD) rent. It's worth it, closeness to CBD, Security. Its also close to Andela ( I need Andela Merchandise, guys.) home of very cool tech events usually Saturdays. Very beautiful minds truly top 1 percent talent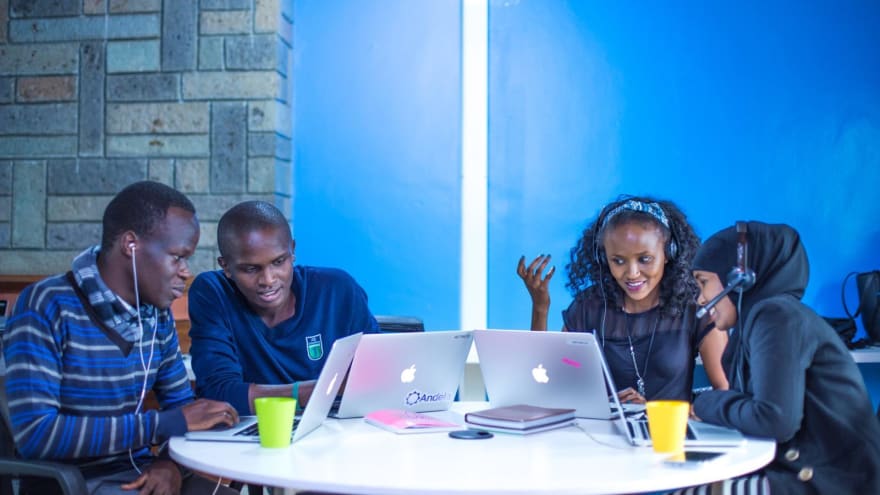 4:00 PM
I stop working on the site. Make notes on the day and start thinking of tomorrow's sprint meeting. For now, I would open my Codecademy account and learn up to around 7:00 pm. Most people I have met have a problem with this, say I spend too much time at work. I use that moment to make sure am at the top of my game in web development. From dealing with JSON data from APIs to Querying data with SQL. I also have a data science course (but don't tell anyone)
I also have evening classes at this time so whenever am not at work, am in school.
7:00 pm
School Work. sometimes classes
8:00 PM
A matatu ride back to Roysambu. There are usually no jams in Thika Road at that time. It takes around 10 minutes. It costs around 60 bob and uber costs around 500 bob.
I cook something and watch a Netflix series as I eat. I doze off watching cartoons by around 11 pm.
That's it. That's the story about the software engineer in Nairobi, Kenya
https://www.instagram.com/godwllb/
https://www.linkedin.com/in/gdwllb/