If you like my articles, you probably like my tweets and newsletter too. Let's connect on LinkedIn. 🚀
---
Hello 👋🏻.
Welcome to my "Week in Review" series. Each week I will share what I discovered, learned, and tested with you.
In the past, I have tried many apps to manage my tabs in Chrome and to get my collection of countless open tabs under control. Unfortunately, none of the solutions were sustainable for me. Except for my current and hopefully for the time being the last attempt with Workona. In this issue of the "Week in Review" series, I show you how I have optimized my workflow in Chrome.
---
Highlights
Last week I asked my community which email client they use. I got a lot of answers. A few e-mail clients were mentioned again and again, including Proton (previously Proton Mail), TwoBird, Superhuman, and Spark. I have tried a few email clients in the past but always came back to Gmail (mobile and desktop). Which client do you use?
Stefan Natter

What E-Mail client do you use?

I use the Gmail client on my phone and Gmail in the browser. I never got used to the native Mail app on macOS, or other apps.

What about you?

06:53 AM - 19 Aug 2020
Another highlight for me was the release of TypeScript 4.0. Especially --incremental with --noEmit , and /** @deprecated */ features are interesting to me. Do you use TypeScript in your projects?
---
Workona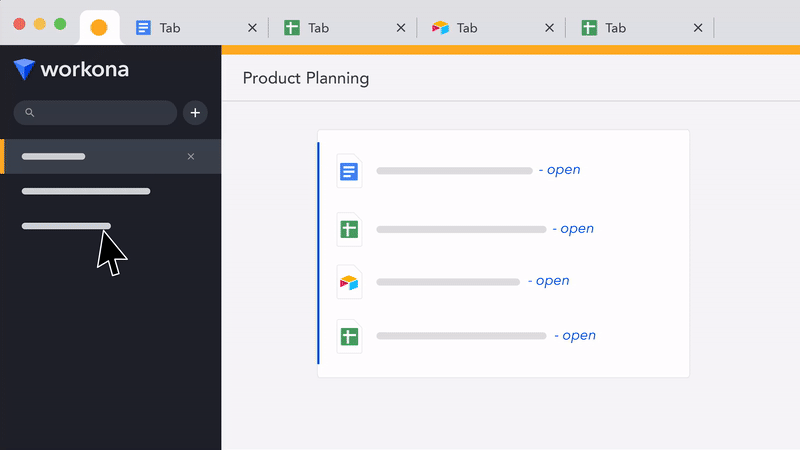 (Source: workona.com)
How do you manage your Tabs in Chrome? How do you improve your battery life by suspending unused and old open tabs? Do you use The Great Suspender and OneTab? Then you are like me before I found Workona. Let me show you why I like Workona so much.
I am an open tab collector. I open lots of tabs on my phone and on my Macbook on a daily basis. Long story short: I get lost. I mix work, social media, private, and research related tabs way too easily. It was about time I find a solution to this situation.
Luckily I found this tweet proposing a solution to Kevin Kwok, who just lost thousands of tabs in OneTab.
Joseph Wilkinson

@j_wilkinson

01:55 AM - 11 Jul 2020
I went to Workona's page and was convinced almost immediately. It combines the most loved features of OneTab, The Great Suspender, and other extensions in one app. You can organize your tabs in multiple workspaces (e.g. one for work, one for social media, ...), share workspaces with your team, and suspend tabs easily.
Workona's strength lies in the workspaces. You can think of a workspace as an independent theme (e.g. work). In this theme, you have all currently open tabs and blocks. Blocks contain a list of saved links. You can have and manage several blocks within a workspace.
Let's take a look at this using the workspace Social Media. In this workspace, I have 2 blocks: "Twitter" and "Misc. "Twitter" contains the most important links for Twitter for me. These are for example tools, chats, the Twitter Analytics page. "Misc." contains among others Reddit and YouTube.
By clicking on "Open all" I can quickly open all links of a block and close them just as quickly. This has made my workflow much easier and improved.
Similar to the Great Suspender, Workona suspends tabs. For this purpose, a certain number of maximum active tabs can be defined. If you have more tabs open Workona starts to suspend them.
Quickly switch between topics has never been easier.
Let me know what you think about Workona, if you try it.
📗 Books
I currently read "We Are All Leaders: Leadership is not a position, it's a mindset" by Fredrik Arnander.
Do you summarise the books you read? This is something I pay more attention to at the moment. This ultimate guide gave me a few tips and tricks to help me along the way.
What are you reading? Share your recommendations in the comments below. 🙏🏻
⛓ Links of the Week
🐦 Tweets of the Week
Bernd Artmüller 🏔

#CSS

Tip: 💅

Repeat background images without clipping by using

background-repeat: space | round

☝️"space": Repeat as much as possible without clipping

✌️"round": Stretched (w/o gaps) until there is room for more images. New image is added -> other images shrink

accordingly.

06:33 AM - 18 Aug 2020
Juvoni Beckford

Just crossed 450 books read 📚

The result of Consistency, Focus, Patience, Persistence & deep reading over 10 yrs

The journey started w/ my desire to escape poverty by taking my education into my own hands

Each Decade adds a Column

🧵45 lessons on Becoming a (Better) Reader👇🏾

17:59 PM - 16 Aug 2020
Adam Wathan

This summer marked four years of working full-time on my own business, which is officially longer than I was a professional programmer working for other companies 🤯

💡 Here are some of the things I believe the most strongly about making a living as an independent maker...

14:01 PM - 20 Aug 2020
Guillermo Rauch

@rauchg

Headless web browsers are a simultaneously amazing and underutilized technology.

This resource is (literally) priceless:

theheadless.dev

16:40 PM - 19 Aug 2020
Jhey 🐻

@jh3yy

17:58 PM - 18 Aug 2020
Hacker News

@newsycombinator

06:02 AM - 19 Aug 2020
Product Hunt • Text me (415) 481-3148

@producthunt

18:30 PM - 18 Aug 2020
Simon Høiberg

@simonhoiberg

And if anyone is interested in checkout out the source code of the winner-picker app, you can find it here 👇

github.com/Silind/twitter…

16:44 PM - 17 Aug 2020
This is it for week 34/2020.
See you next week - thank you. 👋🏻
Stefan
---
If you like this article, chances are you will like my newsletter too. 🚀
Let's stay connected on Twitter, LinkedIn, and GitHub.
You can buy me a coffee or support my work on Patreon too if you want.
---
This post includes affiliate links; I may receive compensation if you purchase products or services from the different links provided in this article.