I am currently a systems engineer at Kenna Security, but wasn't hired into this role: I started four years ago as our first official support engineer (in part, I think, because our co-founder and CTO didn't want to answer tickets anymore).
I still like to be close to that support team, though. One of our current, younger support engineers likes to send me code snippets he's written from time to time, maybe to ask a question or to show off something cool he's learned. He sent me this the other day after one of his snippets:
We're a busy place, and I am Not Great at staying on top of DMs, so I didn't initially think much of it and didn't immediately respond. After lunch, I went back and saw what he had said and something clicked. I responded: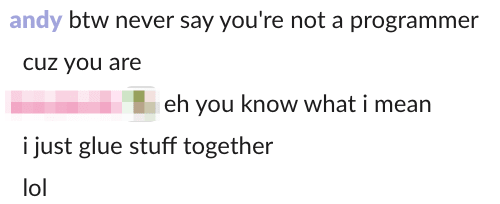 I DO know what he means. I've always wanted to be a programmer - I grew up developing at home on old computers, scripting on graphing calculators in school, asking for O'Reilly Perl books for birthdays. I was very close with CS teachers, and I even had a part time web dev job at a non-profit in high school. After graduation, I followed a track that eventually got me into a Computer Engineering (think CS + circuits) program in college. This seemed like an easy path forward, right?
I dropped out of college, though, and spent over a decade trying - and failing - to become a professional programmer/developer. By the time the Kenna opportunity came around, I had moved from support to software QA, thinking getting as close to "real" development as possible was how I'd land my dream job. As easy as it was to take a job at Kenna (then Risk I/O) - a startup with some very interesting, smart, cool people - the thought of going 'back' to support was a little tough. I still wanted to be a Real Programmer, and I had worked for years next to Real Programmers without being able to do, professionally, exactly what they did.
Kenna was different. I got access to GitHub. I got my own dev instance. I was taught how to create and merge PRs and watch my code (my code!) get deployed to production. Yes, I was answering support tickets, and yes I was jumping on calls to do technical support, but by god I was learning and writing Ruby. A newer engineer even told me later "I didn't know you were support, I thought you were one of our developers when I started".
Our growth at Kenna changed the game a little - I had far less time to play around with code, and was getting swamped with support work as our client base grew in size and complexity. We started growing our support team, though, and hired some support engineers that are easily better at that role than I was. This also opened up an opportunity to move over to our platforms/systems/operations side.
I'd be doing backend, infrastructure work. We're a Fedora shop, and while I played around with Red Hat and Ubuntu and others over the years, I'd never done honest to god Linux system administration. My boss took a chance bringing me over, hoping I'd ramp up to the level of systems engineer we needed.
---
That was a few years ago, and I now feel like an honest to god systems engineer - but am I a Real Programmer?
That support engineer told me "I'm not a real programmer, I just glue stuff together". I replied:
Isn't that exactly what being a programmer is? A great article from last year stated "The Bulk of Software Engineering in 2018 is Just Plumbing", and it's as true at massive scale as it is when simply grepping out strings from log files.
I know a lot of people in tech who suffer from Imposter Syndrome, and it can be extra hard for those of us like this support engineer who may not have "developer" or "programmer" in their title. I spent a lot of my career with a chip on my shoulder, but have thankfully been surrounded by a lot of incredible people that, daily, help me shed that mentality.
My name is Andy, and I am a real programmer.